With the heatwave across the U.S. expected to last a couple more weeks, keeping air-conditioning demand and the fuel's prices bubbling, natural gas bulls are living on borrowed time before the inevitable onset of milder weather.
As traders await the U.S. Energy Information Administration's gas storage report for the week ended Sept. 6, bets are that stockpile increases in the fuel will continue to be tempered for a while by air-cooling demand as temperatures remain unseasonably warm.
A Reuters poll of gas analysts published on Wednesday showed that U.S. utilities likely injected 82 billion cubic feet (bcf) into storage last week.
Lower Build Forecast For Last Week, But Markedly Higher Than A Year Ago
While that was slightly lower than the 84 bcf injection in the previous week to Sept. 30, it was much higher than the 68 bcf build noted during the same week a year ago. The five-year (2014-2018) average for injections, in comparison, was at 73 bcf.
Dominick Chirichella, director of risk and trading at the Energy Management Institute in New York, said temperatures should remain above normal across most of the United States over the next two weeks, with the heat peaking between days 6 and 10.
Said Chirichella: "Summer will not give up yet as above-normal temperatures are generally favored."
Through the year to last week, the weather was warmer than normal with 82 cooling degree days (CDDs), against a 30-year average of 66. CDDs measure the number of degrees a day's average temperature is above 65 Fahrenheit (18 Celsius) and are used to estimate demand to cool homes and businesses.
Matter Of Time Before Stockpiles Start Spiking
Chirichella, however, cautioned that with the "shoulder season" for gas demand already in—a period that typically runs between mid September and October—it was a matter of time before gas stockpiles begin spiking from near record high production of the fuel.
According to data firm Refinitiv, gas production in the Lower 48 U.S. states rose to 92.9 billion cubic feet per day (bcfd) last week, which was close to the daily record high of 93.0 bcfd on Aug. 19.
Chirichella added:
"Even with several heat waves this summer, the injection season has been robust with the surplus over last year continuing to grow, while the deficit versus the five-year average is almost gone."
Daniel Myers, gas analyst at Gelber & Associates in Houston, concurred, saying:
"Once the heat lets up, injections in late September could pick back up quickly as additional supply hits the market."
So, what does this mean for gas prices?
At Wednesday's settlement, the benchmark October gas contract on New York Mercantile Exchange's Henry Hub fell 2.8 cents, or 1%, to $2.55 per million metric British thermal units (mmBtu).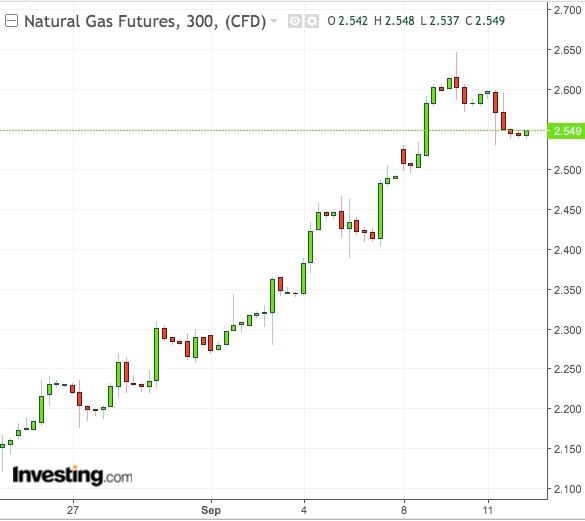 Even so, the contract was headed for a weekly gain of almost 2% after accounting for Monday's near 4% jump. If natural gas closes the week higher, it would be its third straight weekly gain, after surging 9% and 6% in the previous two weeks.
Prices Between 'Too Expensive' And 'Too Cheap'
Said Scott Shelton, energy futures broker at ICAP (LON:NXGN) in Durham, North Carolina:
"I can't argue that $2.55 NatGas is out of value, but would consider calling October at $2.80 "too expensive" or $2.20 "too cheap".

"As far as winter is concerned, considering the way the market loses its mind early in the winter, it's cheap. A bull market could generate a $1 rally for dumb reasons in October and November."

Investing.com, meanwhile, retains a "Strong Buy" for natural gas. On the site's Daily Technical Outlook, the top-end resistance for October gas was given as $2.65, versus last week's $2.61.

Written By: Investing.com