Market Brief: Trade Deal Optimism Lifts Equities
City Index | Nov 04, 2019 07:02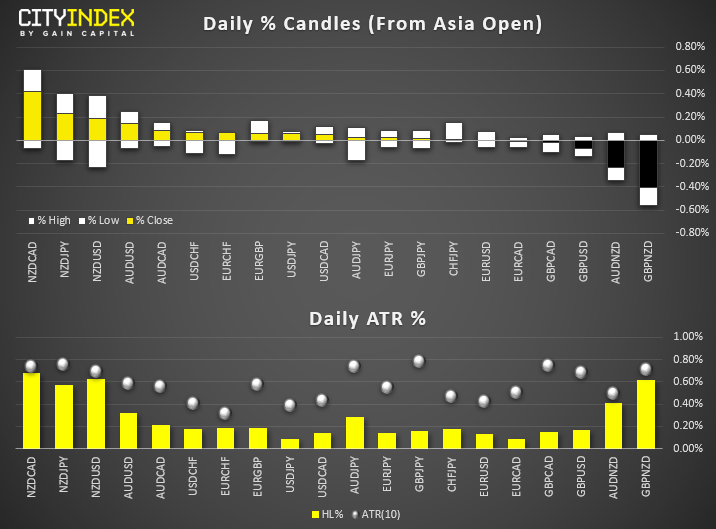 FX Brief:
Volumes were lighter due to the public holiday in Japan today.
NZD is the strongest major on the announcement that New Zealand has concluded its negotiations to upgrade their free trade deal with China. is today's biggest gainer, and its daily range has hit 91% of its 10-day ATR. touched a fresh 3-month high.
decline -0.1% in Q3, showing further signs that tax brakes and low-interest record rates are failing to prop up the economy. ANZ job adverts also declined by -1%. Take note that has paused beneath a long-term bearish trendline ahead of tomorrow's RBA meeting. Whilst there's no expectation of a cut, a dovish statement could topple the Aussie.
is trading in a tight range just off last week's highs ahead of data and a speech from ECB's Christine Lagarde. is trapped between the 20 and 50-day EMA, near Friday's high.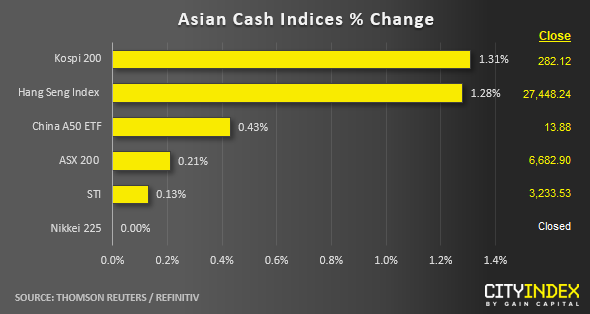 Equity Brief:
Another bout of U.S-China trade deal optimism news flow coupled with a strong U.S. job/ data for Oct reported on last Fri, 01 Nov have continued to lift Asian stock markets at the start of a new trading week.
U.S. Commerce Secretary Wilbur Ross expressed optimism over at a media interview over the weekend that U.S. would reach an agreement on the "Phase 1 of the trade deal" with China by this month and mentioned licenses would be issued very shortly for U.S. companies to sell components to "blacklisted" Huawei Technologies Co.
The best performers today are South Korea's and Hong Kong's , as both have rallied by around 1.30%. Japan's is closed today for a public holiday. The Kospi 200 has hit a 4-moth high of 282.49 led by the financials and industrials sectors that have gained by 2.31% and 1.79%, respectively.
Hong Kong's stock market has shrugged off a series of violent street protests over the weekend that caused two people in critical conditions. More demonstrations are planned for this week that includes Guy Fawkes Day on 05 Nov by putting on banned face masks in the streets of Hong Kong.
Both Singapore's (STI) and Australia's have only gained modestly by 0.13% and 0.20%, respectively. The ASX 200 has been dragged down by financial shares again where the big four banks, CBA, NAB, and ANZ, have dropped by -1.72%, -3.03%, and -0.65%, respectively. Westpac shares are halted for trading after it has announced an A$2.5 billion capital raising in fresh equity to bolster its balance sheet. In addition, Westpac (ASX:) also reported a 15% decline in full-year cash earnings and cut its dividend pay-out for the first time in a decade.
The have continued to inch higher by 0.22% in today's Asian session to print another fresh all-time high of 3071 with a current intraday low of 3064.
Up Next:
The Euro will be in focus as new ECB head Christine Lagarde delivers her first official speech.
data is expected to remain firmly within contraction (below 50) at 41.9. The broader EZ read is also expected to remain within contraction at 45.7, with bucking the trend to remain slightly expansive at 50.5. So Euro pairs have plenty to keep an eye on later this session.
UK is expected to weaken further to 44 versus 43.3 prior.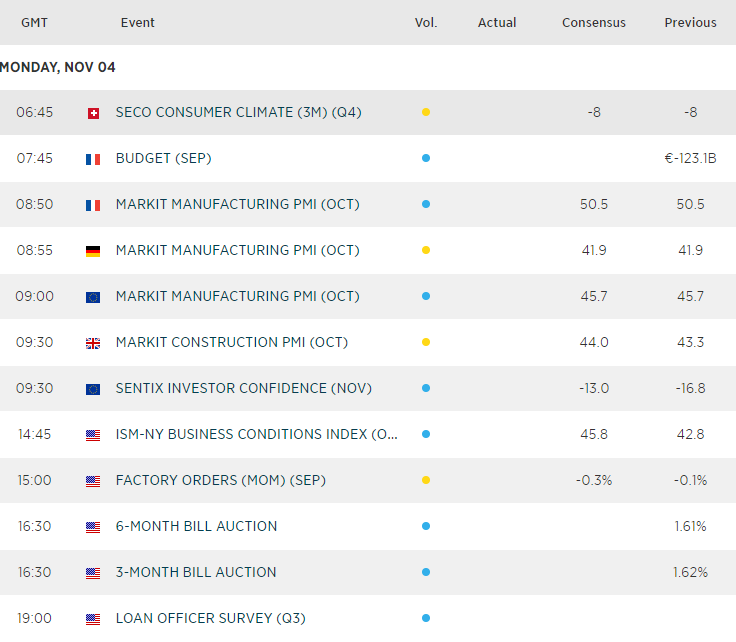 "Disclaimer: The information and opinions in this report are for general information use only and are not intended as an offer or solicitation with respect to the purchase or sale of any currency or CFD contract. All opinions and information contained in this report are subject to change without notice. This report has been prepared without regard to the specific investment objectives, financial situation, and needs of any particular recipient.
Any references to historical price movements or levels are informational based on our analysis, and we do not represent or warrant that any such movements or levels are likely to reoccur in the future. While the information contained herein was obtained from sources believed to be reliable, the author does not guarantee its accuracy or completeness, nor does the author assume any liability for any direct, indirect or consequential loss that may result from the reliance by any person upon any such information or opinions."

Written By: City Index