Market Brief: Japan's Shrinking Exports Raises Odds That BoJ Could Could Ease
City Index | Oct 21, 2019 06:43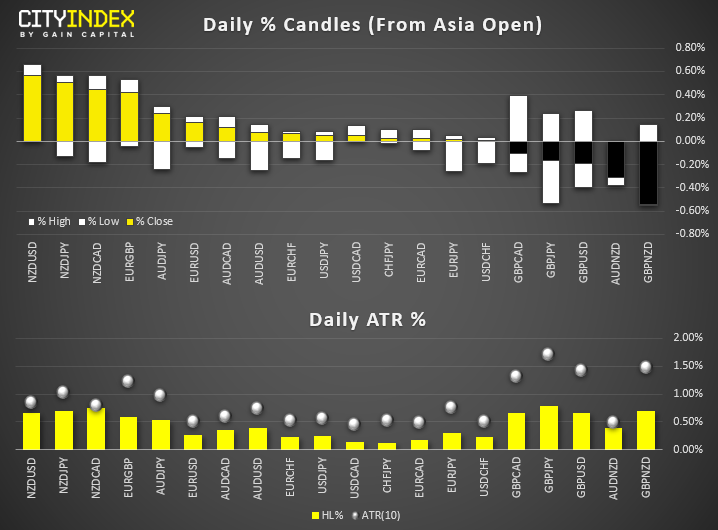 FX Brief:
Japan's exports contracted for a 10th consecutive month, seeing further calls for BOJ to ease at next week's meeting. At -5.2% YoY, it missed expectation of -4% although an improvement over -8.2% prior.
A report in the UK Times suggests that the EU are prepared to extend Brexit through to February 2020.
Incoming ECB President Christine Lagarde says "everyone will be a little less well off as a result" of Brexit and that the US-China trade war is "certainly going to give a big hair cut to the global economy".
Goldman Sachs (NYSE:) have lowered their probability of a no deal Brexit from 10% to 5%. They also think the Fed have likely prevented a recession.
NZD is the strongest major, seeing NZD/IUSD tough a 1-month high and hit a 6-day high ahead of Canada's election. is on the verge of breaking above September's high, remains within a potential bull-flag formation on the 4-hour chart around 108.50.
GBP pairs are treading water as they await the next bout of Brexit headlines. Although implied volatility for cable remains at its highest level since June 2016 (following the vote for Brexit).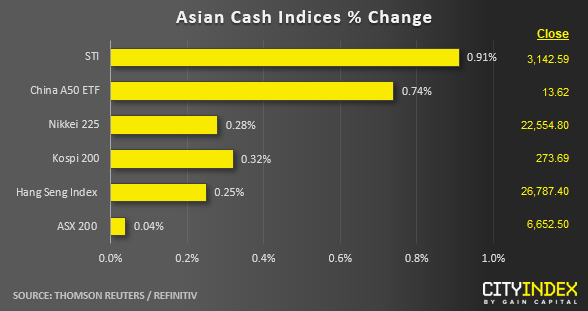 Equity Brief:
It's been a mixed session on the ASX200 which saw the index close essentially flat, although it leaves room for a bullish hammer on the daily chart.
Australian tech firms remain under pressure following RBA's announcement of their probe on buy-now-pay-later firms on Thursday. Afterpay was one of the wort performers, closing -3.9% lower, yet at one point had fallen over -8% since Friday's close. Consumer staples and energy also weighed on the index, with real estate investment trusts, industrial and consumer discretionary leading the way higher.
Wisetech Global requested a trading halt following allegations within a research report and was the biggest loser having shed -12.3% on the session.
Stockland Corporation enjoyed its best session in 5-months following an upbeat outlook and was today's strongest gainer on the ASX200, closing +6.2% higher.
The STI (Singapore's Straight Times Index) was the biggest mover among the indices we track and touched a 3-day high and is on track for a bullish outside candle.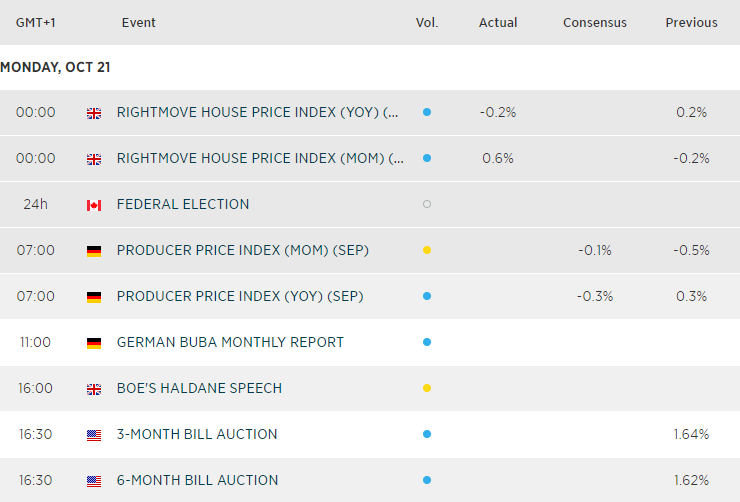 "Disclaimer: The information and opinions in this report are for general information use only and are not intended as an offer or solicitation with respect to the purchase or sale of any currency or CFD contract. All opinions and information contained in this report are subject to change without notice. This report has been prepared without regard to the specific investment objectives, financial situation and needs of any particular recipient.
Any references to historical price movements or levels is informational based on our analysis and we do not represent or warrant that any such movements or levels are likely to reoccur in the future. While the information contained herein was obtained from sources believed to be reliable, the author does not guarantee its accuracy or completeness, nor does the author assume any liability for any direct, indirect or consequential loss that may result from the reliance by any person upon any such information or opinions."

Written By: City Index