Market Brief: CAD and JPY Supported Following Attack On Oil Production Facility
City Index | Sep 16, 2019 08:46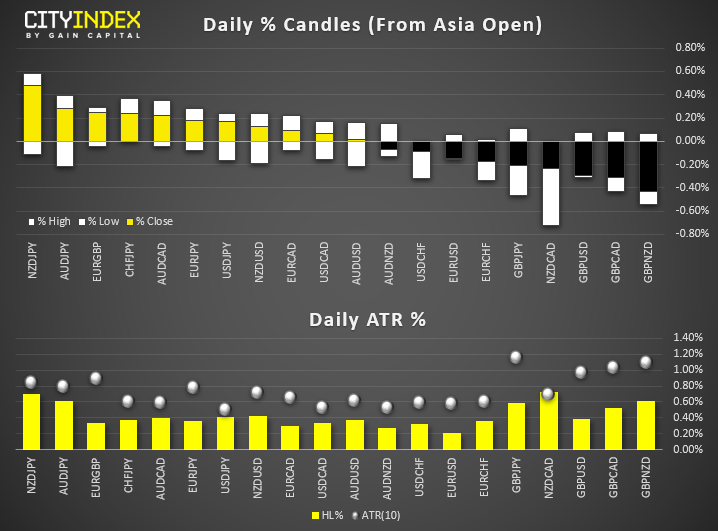 The US officially blamed Iran for this weekend's attack on the world's largest oil facility in Saudi Arabia. Trump tweeted that the US was "locked and loaded," hinting at a potential response over the attack. Oil prices are back below $60 after gapping higher over 12% today.
China data came in weaker than expected, with urban investments slowing to 5.5% YoY (weakest in 12 months), industrial output falling to 4.4% (weakest since 2002) and retail sales felling to 7.5% versus 7.9% expected. This is all despite further stimulus earlier this year, which will no doubt spur further calls for yet more stimulus.
CAD is the strongest major, supported by higher oil prices. JPY is the second strongest major from safe-haven flows, seeing USD/JPY gap to a 2-day low and trade back beneath April's bearish trendline. GBP is today's weakest major, although remains near Friday's highs.
Despite the weekend drones' attack on Saud Arabia's oil production that has sent the WTI crude oil futures to spike close to 10% in today's Asian session, the overall performance seen so far on Asian stock markets has appeared to be quite muted despite an increase in Middle East's geopolitical risk. The U.S. has put the blame on Iran for the attacks, and President Trump tweeted with a "lock and loaded" response that hinted a potential retaliation towards Iran.
Also, industrial production from China for Aug came in below expectation at 4.4% y/y versus consensus of 5.2% y/y. It has continued to decline from Jul data of 4.8% y/y that has led to a 3rd consecutive month of slower growth from the negative effects of the on-going U.S-China trade tension.
The worst performer so far as at today's Asia mid-session is Hong Kong's Hang Seng Index where it has dropped by -1.00%. The weaker sentiment seen in the Hang Seng Index versus its Asian peers is likely due to localized factors. Firstly, the negative spill-over effect from another bout of violent weekend clashes between police and anti-government protestors where mass protests have entered the 15th week. Secondly, the London Stock Exchange (LSE) has rejected the Hong Kong Stock Exchange (HKSE) US$39 billion takeover bid. Despite the fact that HKSE's refusal to give up on its bid for LSE, shares of HKSE has dropped by -2.7% to hit a 4-week low of 234.40 as seen today.
S&P 500 E-mini has gapped down in today's Asian open session and traded lower to print a current intraday low of 2983; a drop of -0.86%. Right now, as at today's Asian mid-session, it has recouped some of its earlier losses to trade at 2990; a current intraday drop of -0.61%.
Up Next:
Data is light for the US session (and non-existent for the European). And with trade tensions taking a back seat, it's any update or knock-on effect from the weekend's oil plant attack which could be a key driver for markets. Markets to watch: WTI, Brent, CAD, NOK, RUB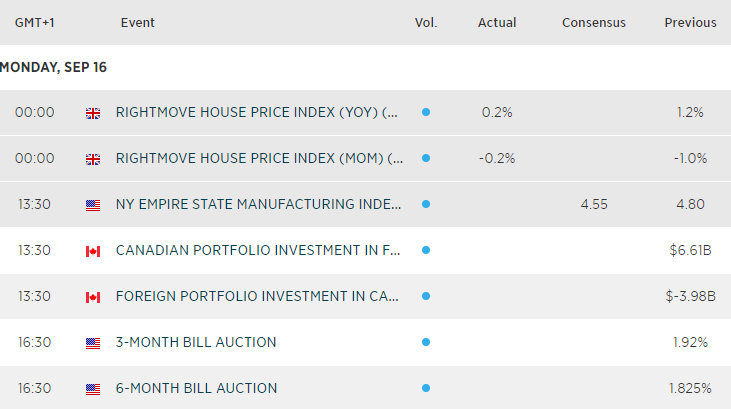 "Disclaimer: The information and opinions in this report are for general information use only and are not intended as an offer or solicitation with respect to the purchase or sale of any currency or CFD contract. All opinions and information contained in this report are subject to change without notice. This report has been prepared without regard to the specific investment objectives, financial situation, and needs of any particular recipient.
Any references to historical price movements or levels are informational based on our analysis, and we do not represent or warrant that any such movements or levels are likely to reoccur in the future. While the information contained herein was obtained from sources believed to be reliable, the author does not guarantee its accuracy or completeness, nor does the author assume any liability for any direct, indirect or consequential loss that may result from the reliance by any person upon any such information or opinions."

Written By: City Index