Investors interested in the cannabis sector last week watched as CannTrust Holdings Inc (TSX:TRST), (NYSE:CTST), one of the leading marijuana companies, attempted to bandage its injuries amidst an ever-expanding scandal that stripped away more than 60% of its market cap.
It is difficult to look away from the car wreck that is CannTrust—as it sits in a tangled mess by the roadside in the wake of news that the Ontario-based marijuana grower had knowingly misled Health Canada officials about thousands of plants growing in unlicensed areas of their greenhouse facility in Pelham, Ont., which has caused the firing of the company's CEO and prompted the resignation of its board chairman. However, looking away could help restore investors' faith in the sector.
This week, investors should turn their attention to a few other numbers.
The sales of cannabis oil are on a steep month-over-month upward trajectory. That is the headline found in the latest statistics released by Health Canada, the government department that regulates the marijuana sector in Canada. Cannabis oil sales jumped 19.2% in May compared to April.
According to the stats, sales of medical oils increased 19.5%, and sales of what are termed "adult-use" oils, which are used to promote general wellness, were up 18.7%.
These figures show support for what is widely believed could be one of the biggest cannabis markets in the near future. Cannabinoil, or CBD, is a cannabis derivative that is touted to have therapeutic properties without providing the 'high' that is obtained with THC, or tetrahydrocannabinol, the psychoactive component of marijuana.
Numbers like these support the outlook for cannabis-infused edibles and beverages, which will begin to be rolled out later this year in Canada and, eventually, in the U.S. They become legal north of the 49th parallel in October, and are expected to hit retail markets by mid-December. How they fare in the Canadian market will be closely watched as the results will influence what the next steps will be in the legalization of the substance in the vast U.S. market.
Italian government signs deal with Aurora
Aurora Cannabis Inc (TSX:ACB), (NYSE:ACB), one of the leading pot producers, is expecting to sign a new contract with the Italian government in September to supply medical cannabis to the European country.
The two-year deal will see a minimum of 400 kilograms of cannabis from Aurora's facilities in Germany, which are certified for European Union export. The weed will be imported into Italy, which is one of the most strictly regulated markets for medical cannabis in the world.
One IPO to watch
A cannabis IPO to watch this week is Sundial Growers Inc (NASDAQ:SNDL). This Alberta-based cannabis producer will be issuing 10 million shares on the Nasdaq on Thursday under the ticker 'SNDL' at an initial price estimated between US$12 and US$14, and expecting to raise about $130 million. The company operates two growing facilities in Alberta and plans to build a third in British Columbia.
Sundial focuses on medicinal cannabis and products that fall under the wellness category, including CBD oils aimed at women to help them deal with menstrual cramps, as well as other products to promote "self care" and reduce stress.
Key earnings report to watch
With several marijuana stocks taking a hit in the last few weeks, many observers will be watching the earnings report from Aphria (TSX:APHA), (NYSE:APHA) after the market closes on Thursday.
Aphria stock has been trending downward since early May. It has lost 35.29% in the last year.
On Monday, it closed at US$5.34 in New York, down 2.92% on the day, and C$7.02 on the S&P/TSX Composite, down 3.04% on the day.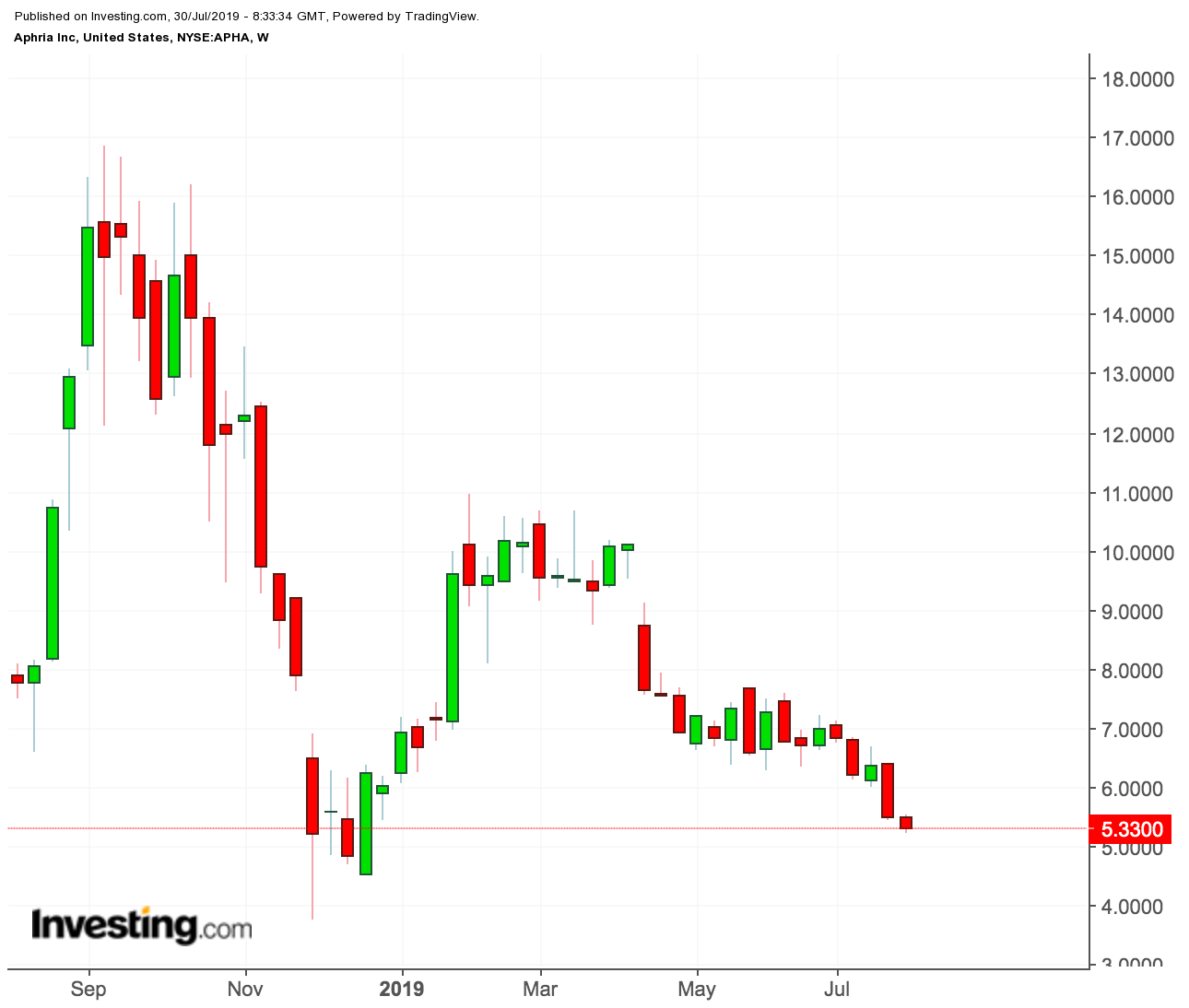 Based in Leamington, Ont., a small town known as the greenhouse capital of Canada, the firm has operations in 10 countries across five continents.
It will be interesting to see how its figures line up for its fourth quarter. Pure performance may not be enough. The company will have to address some of the optics.
The company has had a turnover of top brass. In May, it named a new CEO, James Meiers. It also appointed new individuals to several key positions – vice-president and chief information security officer. It lost its president, Jakob Ripshtein, last month. Ripshtein had only been on the job since last November. Given the regulatory crisis at CannTrust and the recent ousting of Bruce Linton as CEO of Canopy Growth Corp (TSX:WEED), (NYSE:CGC) in early July following its disappointing earnings report, investors might opt to take a wait-and-see approach to allow the dust to settle in the executive suites.
Another consideration: The company's market cap of US$1.34 billion has taken a serious trim in the last year, but it is still considered one of the big players. But the size of its sales casts a different shadow. Last quarter Aphria only sold about 2,600 kilograms of cannabis. That does not stack up to outputs by other players, like Canopy and Aurora Cannabis, both which produce close to 10,000 kilograms. Will it become a tier-two producer in terms of size? It's a legitimate question.
And then there is the gamble. Given that the stock has also been underperforming, maybe it could deliver a quick short-term bump this week. Long-term investors might not be as easy to convince.

Written By: Investing.com