It's shaping up to be a pivotal week in the cannabis sector as several big names are set to unveil their latest earnings, beginning later today and continuing through Thursday. Given the cluster of financial data to be released, the impact on stock prices could reach beyond just the companies reporting and extend to the entire sector.
Among the companies reporting quarterly earnings between today and Nov. 14 are Tilray, Cronos Group, Acreage Holdings, Canopy Growth, Aurora Cannabis and Medipharm Labs.
Here's what to expect:
Cronos Group
The Toronto-based Cronos Group (NASDAQ:CRON), (TSX:CRON), which has the smallest slice of the retail cannabis market, probably has the greatest potential to show growth when it reports its quarterly results before the open today. Its stock closed down just over 5% Monday, hitting US$8.08 on the NASDAQ and C$10.69 on the TSX Composite. The shares have lost just over a third of 1% in the last year, which is a lot better than most in the industry.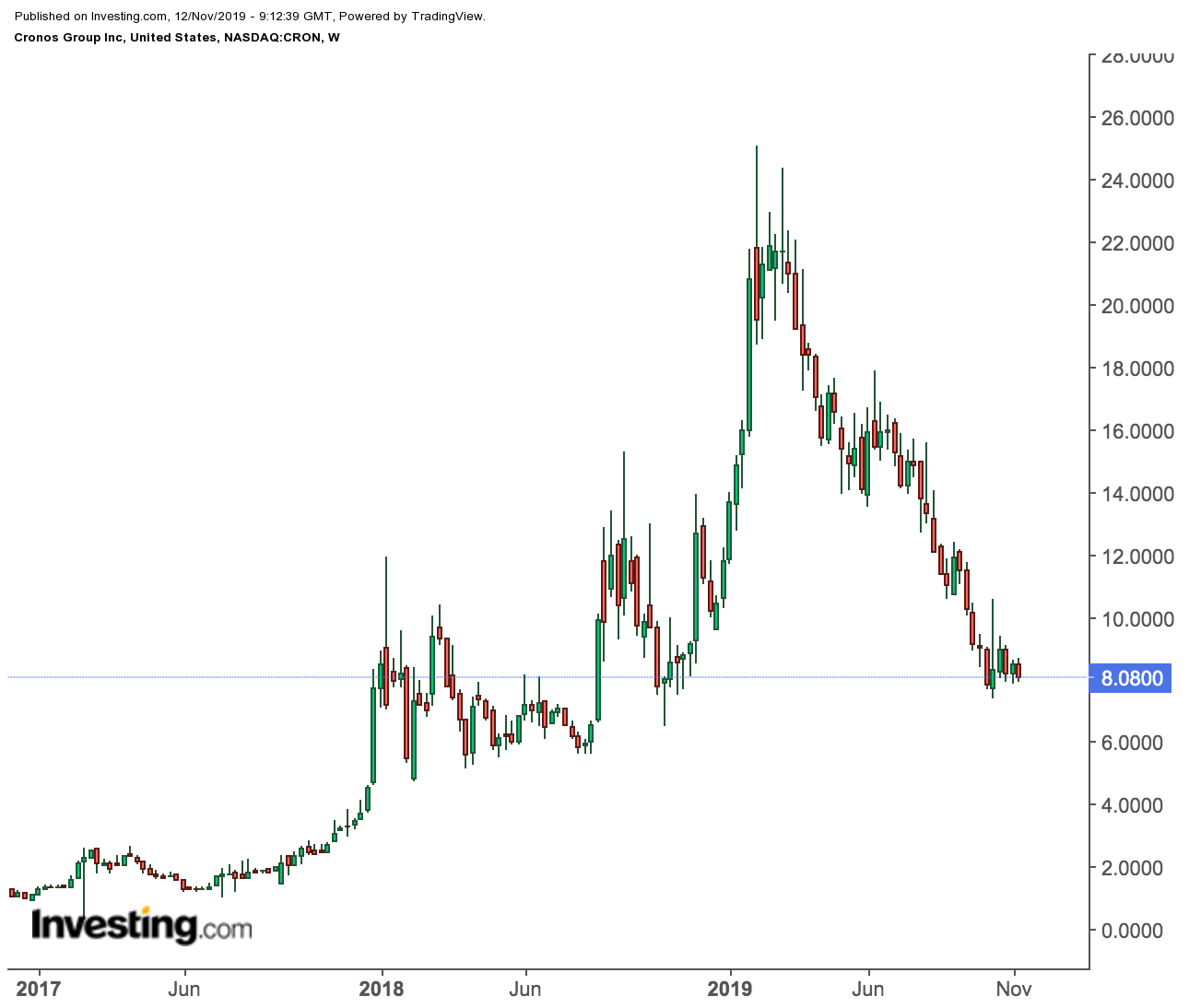 Cronos has another strong advantage in its back pocket compared with other companies in the sector – its $1.8-billion investment from Altria Group (NYSE:MO), the U.S. cigarette-maker. This has allowed it to finance its entry into the CBD market.
Tilray
For Tilray (NASDAQ:TLRY), the expectations are not as optimistic. It's third-quarter report will be released after the closing bell today.
The company is struggling with dropping cannabis prices due to expanding inventory, which is making it difficult for it to digest its greater-than-expected $17.9-million before-adjustments loss reported last quarter, largely due to ongoing expansion.
The British Columbia-based grower has struggled to live up to its hype, created early, when its stock skyrocketed 40% in one day in September 2018, making headlines on both sides of the border. Since then, it has been marked by volatility that has created headline generating highs and lows. The stock has lost almost 80% in the past year, closing down 6.4% Monday at US$21.92. Expectations from analysts are not overly optimistic.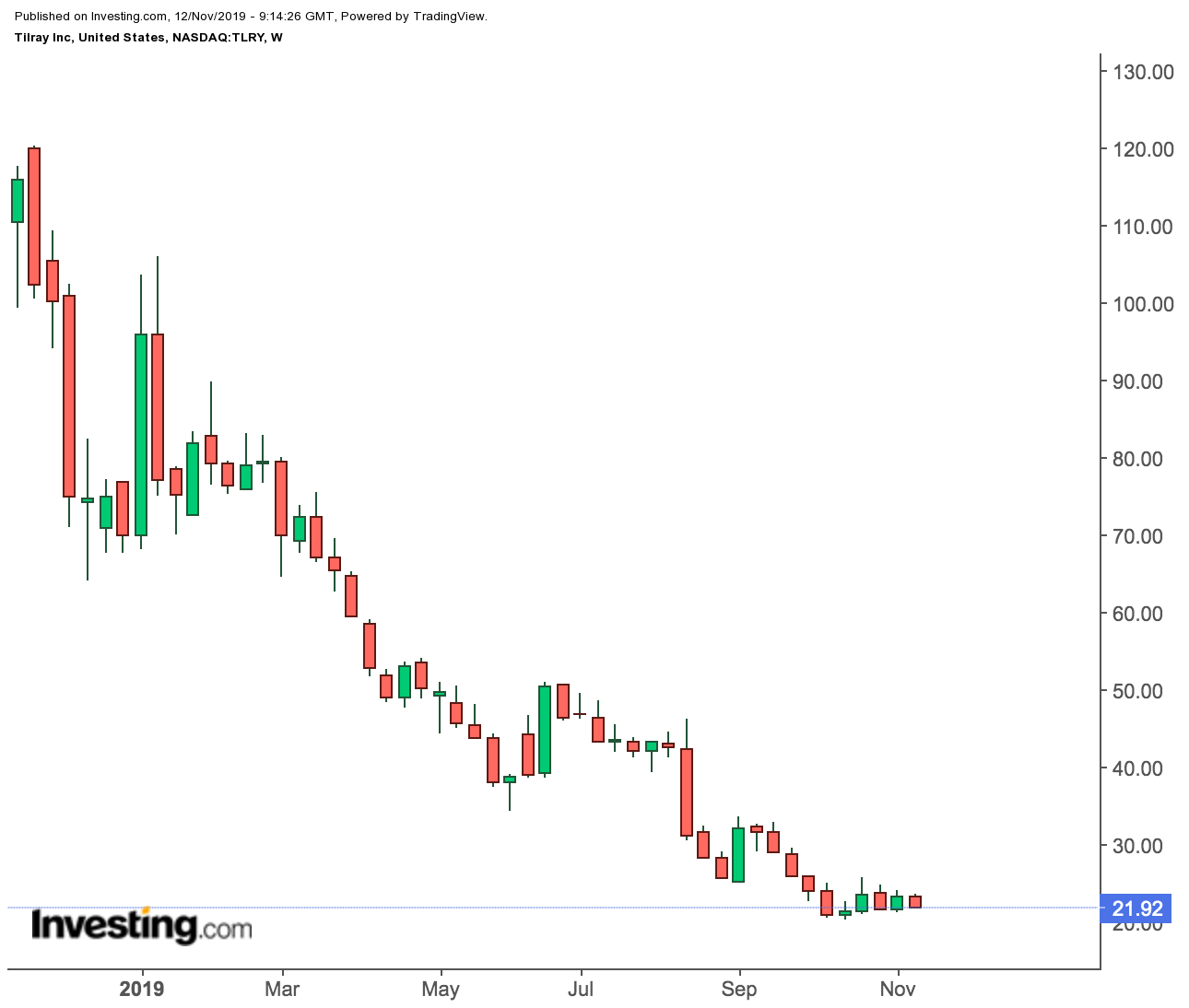 Acreage HoldingsAcreage Holdings (OTC:ACRGF), (CSE:ACRGu) will be one to watch. Its third-quarter earnings results, which will be released after the close today, will be discussed by company officials on Wednesday morning.
This New York-based company is one of the largest multi-state licensed cannabis growers and retailers and operates in 20 states. With a large footprint in the U.S. markets where weed is legal, its performance will be an indication of its potential down the road as federal U.S. legalization inches closer. Acreage Holdings is the company that the world's largest marijuana producer, Canopy Growth, has agreed to buy as a means of powering its expansion into the U.S. as soon as Washington opens the regulatory framework.
The shares closed down 4.5% yesterday at $4.90 in New York and down 2.4% in Toronto.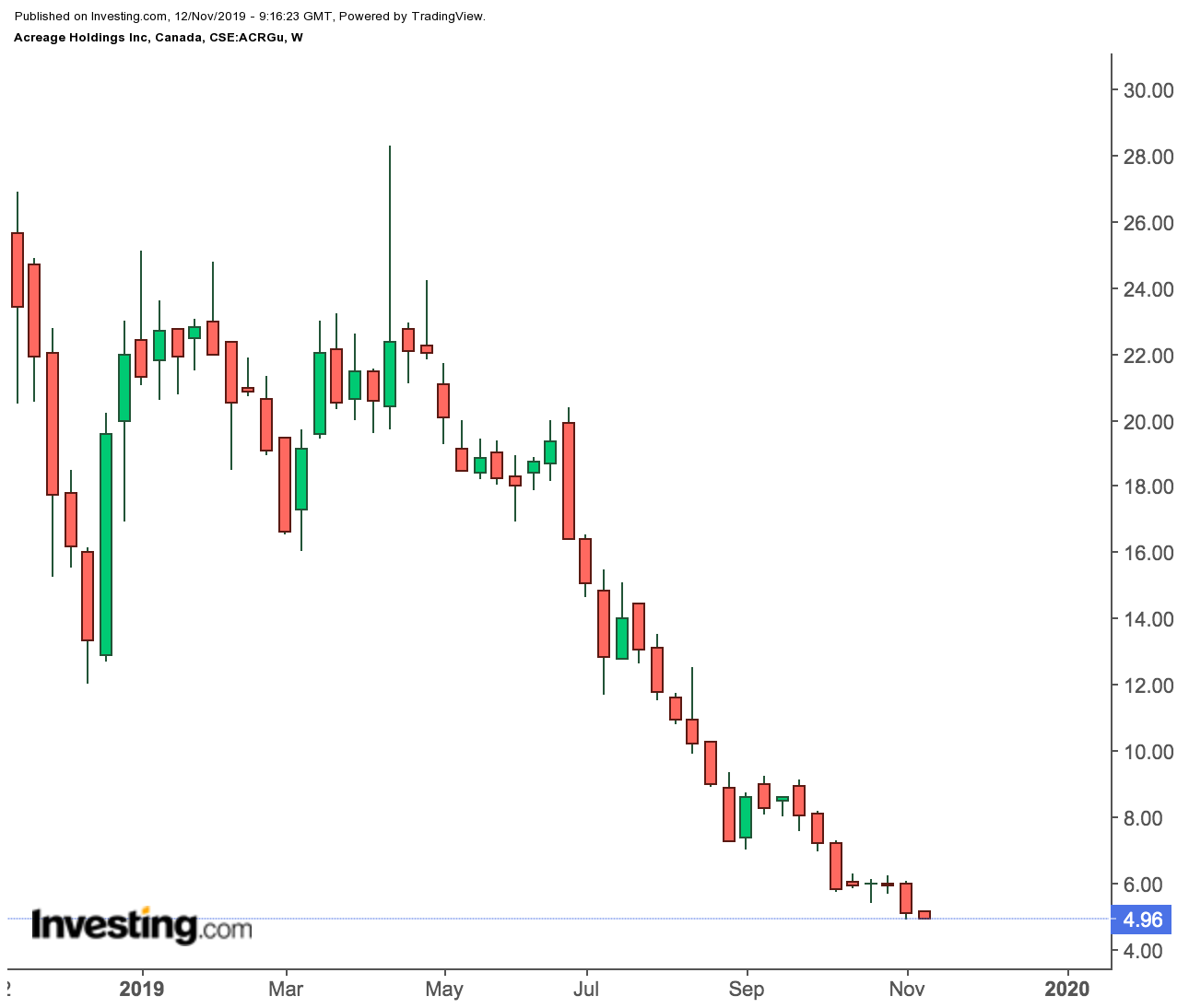 Canopy Growth
And speaking of Canopy Growth (NYSE:CGC), (TSX:WEED), it will make public its second-quarter earnings before the market open on Thursday. In the last few weeks it has announced the launch of 16 new infused products, including 13 THC- and CBD-infused beverages and three chocolate bars that each contain 10 milligrams of THC. All will be readily available for consumers by next month and will be aimed at new non-traditional market sectors that will introduce the cannabis experience to non-traditional users.
Cowen analyst Vivien Azer has described Canopy's sales as flat, but points to possibly picking up more medical clients from the problem-plagued CannTrust Holdings (NYSE:CTST), (TSX:TRST), which has ceased all sales after admitting to growing pot in unlicensed rooms.
Canopy Growth shares were down more than 5% Monday, closing at US$20.30 (C$26.87).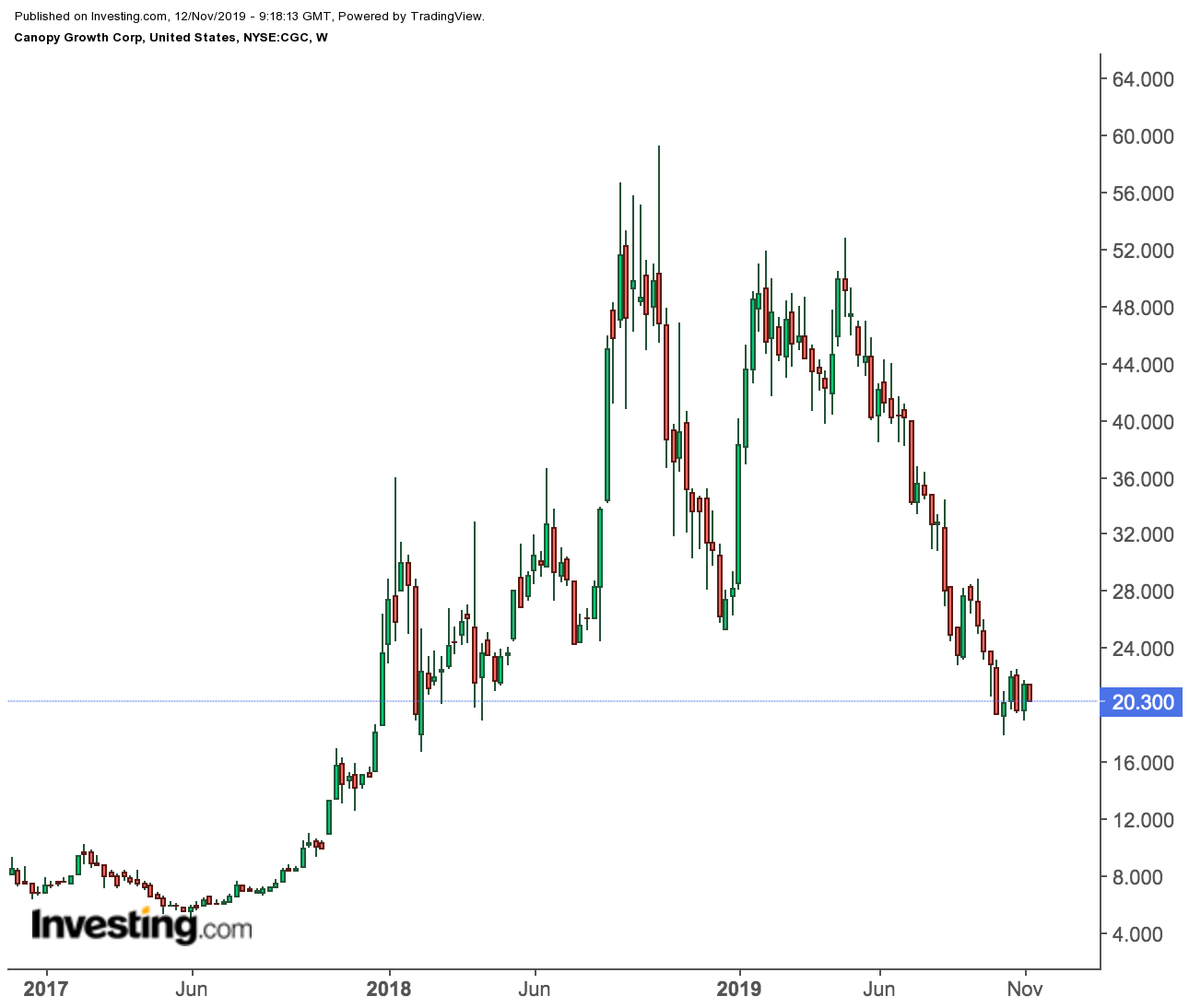 Aurora Cannabis
Investors who are hanging on to shares of Aurora Cannabis (NYSE:ACB), (TSX:ACB) should brace themselves for more bad news when it reports after market close on Thursday, according to analysts. The Edmonton-based company had predicted profitability on an EBITDA basis last quarter, but failed to hit the mark. The numbers could be worse this quarter.
Aurora shares were down about 5% yesterday, closing at US$3.62 (C$4.78). The stock has lost just over 50% of its value in the last year.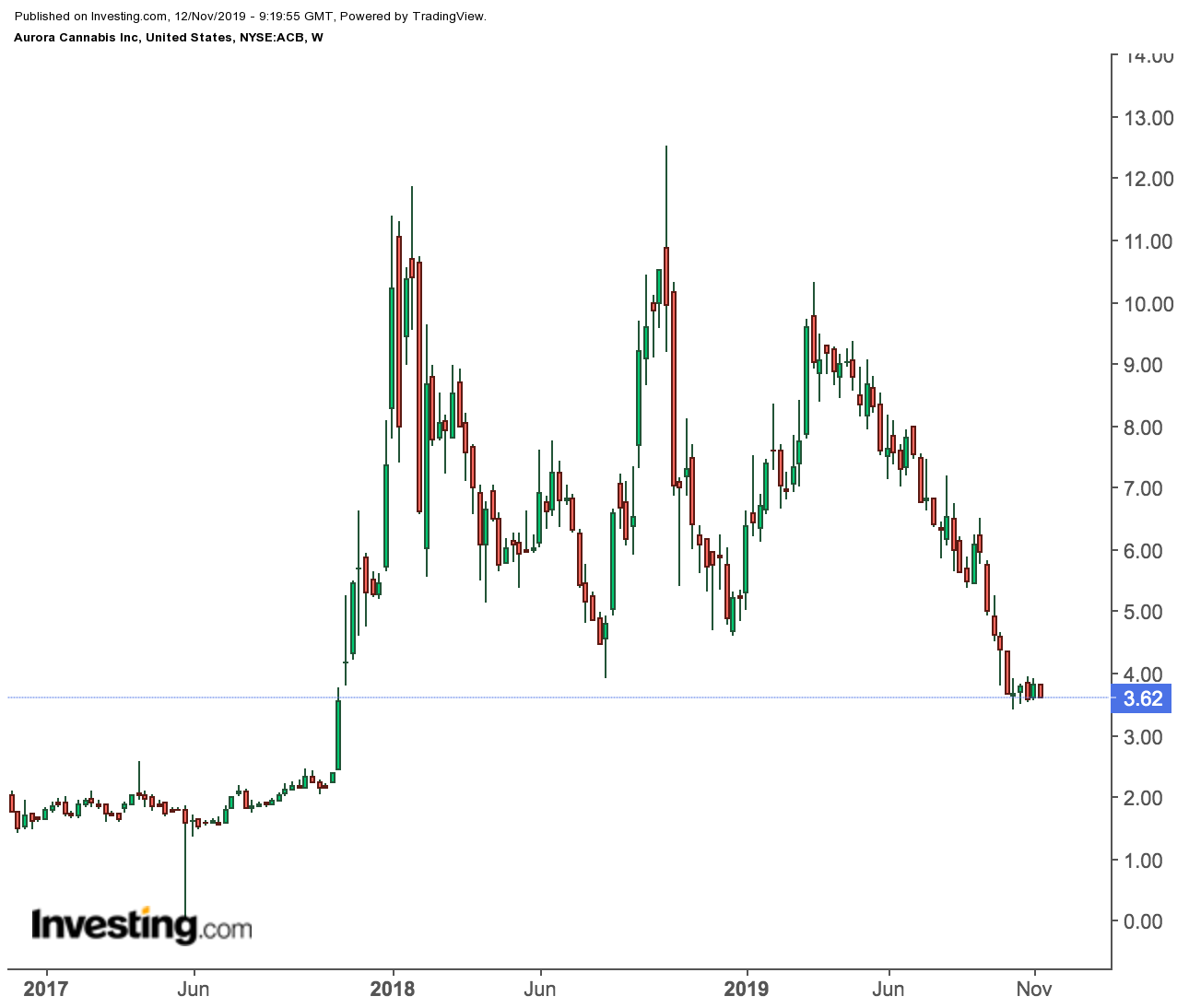 Medipharm Labs
Medipharm Labs (OTC:MEDIF), (TSX:LABS) will be reporting before market today. Based in Barrie, Ont., this Canadian cannabis extraction firm is only traded on the TSX Composite, however, on Nov. 5, it applied to list on Nasdaq.
Founded in 2015, this company has emerged as a global leader specializing in cannabis extraction, producing purified pharmaceutical-grade cannabis oil and concentrates used in derivative products. With an ever growing number of derivative products coming online for consumers, extraction quality and reliability is growing in demand.
Medipharm shares closed Monday down 3.8% at C$5.05, but the stock has had a remarkable performance, gaining 243.5% in the last year.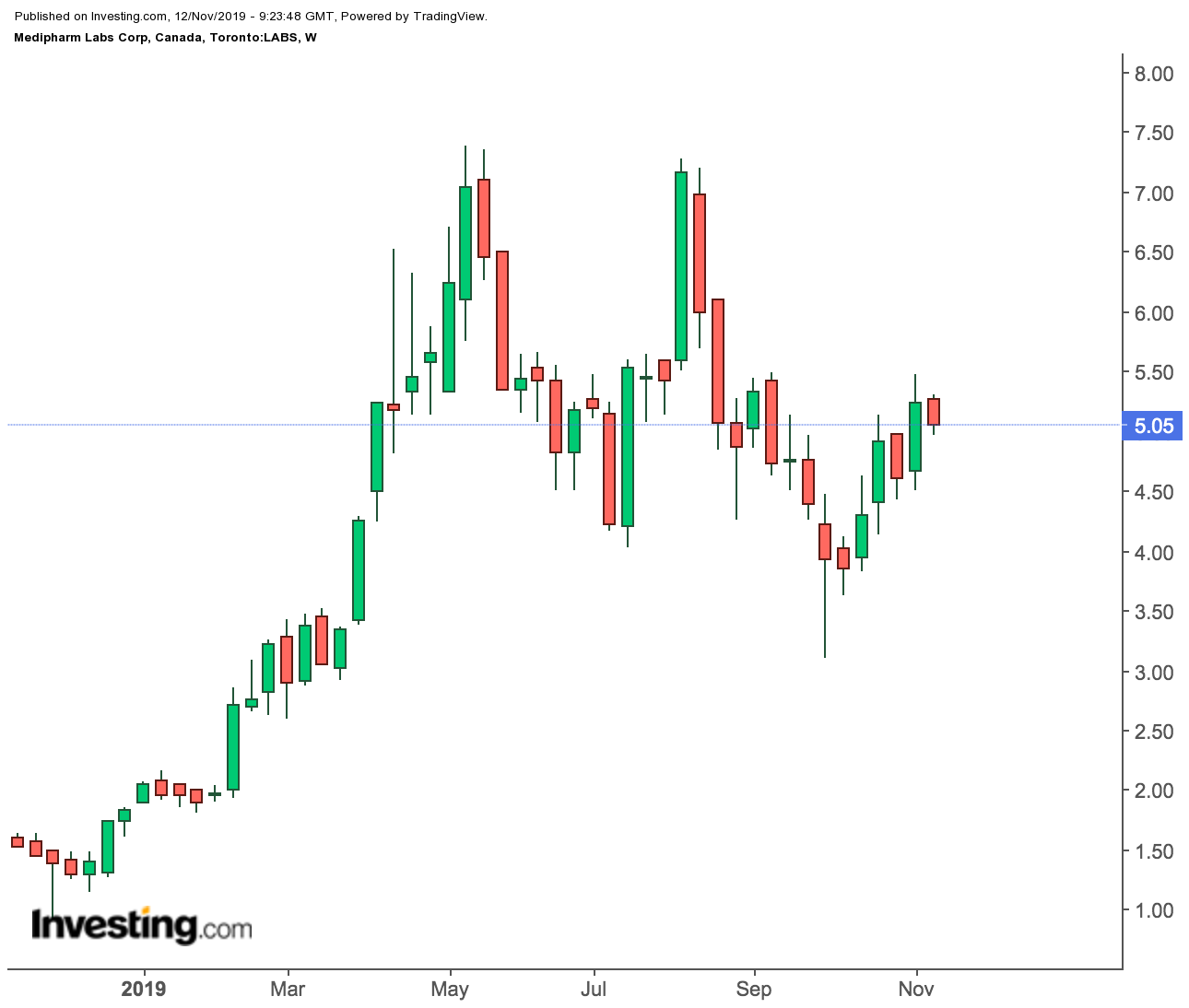 Written By: Investing.com