Right now, Tesla's (NASDAQ:TSLA) momentum makes it perhaps the most exciting stock available. As analysts race to upgrade their price targets after the company unveiled encouraging earnings reports over the past two quarters, shares have already doubled this year.
The surge has been so fast and furious that Tesla shares are now up 118% for 2020—outperforming every single stock in the S&P 500. In fact, Tesla's rise over the past five trading days marked the period as the best five-day stretch for the stock since a rally in May 2013, when the company posted its first-ever quarterly profit. On Tuesday alone, shares rose another 14%, to $887.06.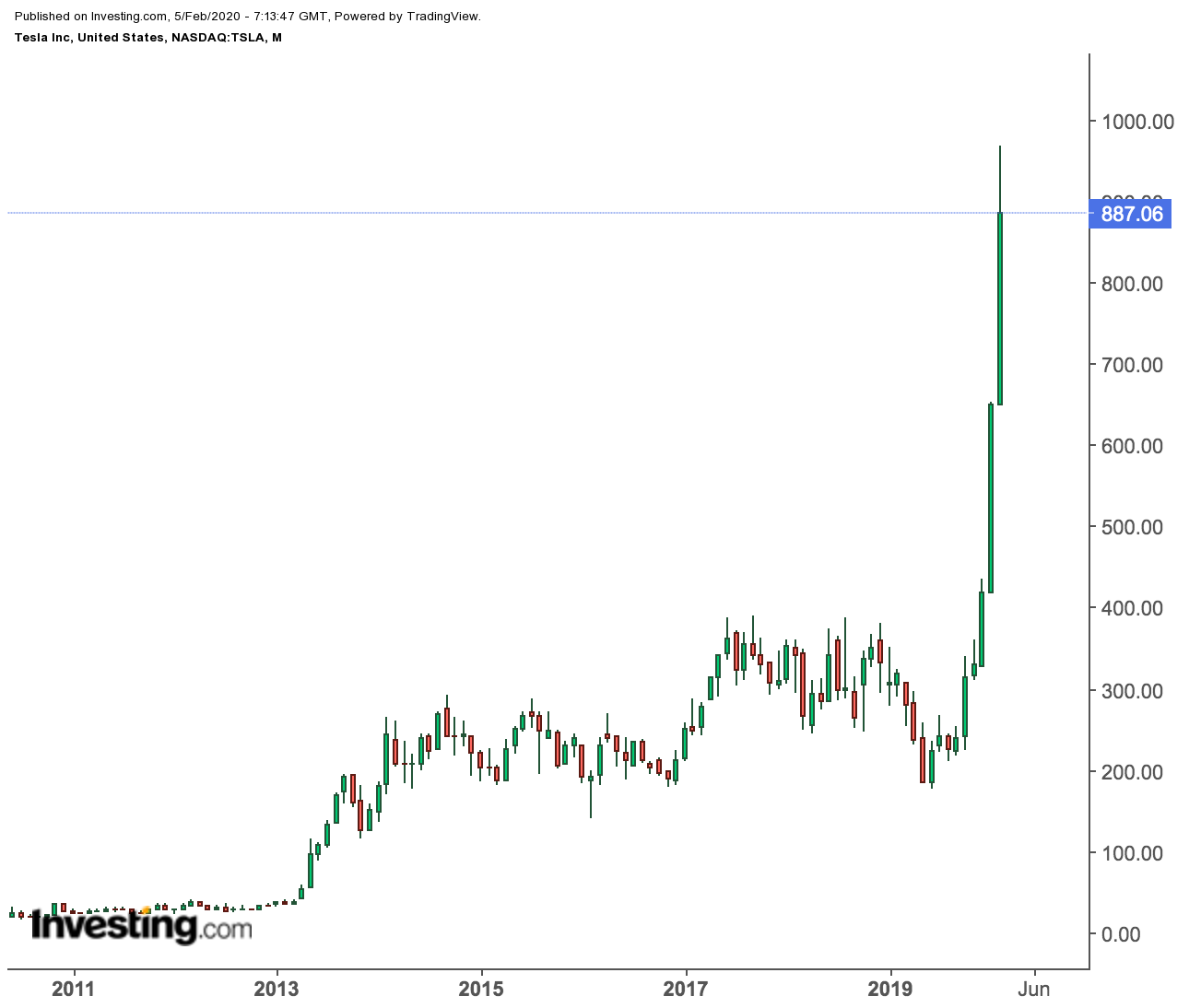 This eye-popping rally has pushed Tesla's market capitalization to about $160 billion, giving the electric carmaker a valuation greater than that of General Motors (NYSE:GM), Fiat Chrysler (NYSE:FCAU) and Volkswagen (OTC:VWAPY) combined.
If you haven't invested in Tesla shares as yet or you haven't been following this story closely, you may be wondering whether you've missed the boat already, and whether it's simply too late to buy into the stock after such a powerful run.
There is no simple answer to this question. And indeed, Wall Street is still very divided over Tesla's outlook.
On the one hand, Tesla bulls are feasting on the fuel generated by Tesla's record deliveries in the fourth quarter as well as its plans to deliver more cars globally in 2020.
As well, the completion of its Shanghai factory and the company's success in exceeding its ambitious goal of selling 360,000 vehicles for the year also offer a powerful sign that Tesla could rapidly become a meaningful industry player if it continues to meet its targets.
Fundamental Shift
And, with Tesla's numbers improving and its founder and CEO Elon Musk promising profit every quarter from now, there's also a fundamental shift taking place in the auto industry.
According to a Bloomberg report, the long-held assumption that legacy automakers will catch up to Tesla in the electric-vehicle market is wrong. In fact, Musk may be adding to his lead, ensuring in the process that the company dominates one of the true growth markets in the world for years to come.
"There's a recognition that Tesla is in a preeminent position in terms of electric-vehicle technology," Peter Rawlinson, the chief executive officer of Lucid Motors Inc., said at the BloombergNEF Summit in San Francisco. "They're even further ahead than has been reported and I think the gap is widening, not closing."
Adding to the rally are a number of analysts upgrading Tesla's stock. Argus analyst Bill Selesky raised Tesla's price target to $808 from $556, citing the company's "dominant position in the electric vehicle industry."
Calls For Caution
O the other hand, and amid this feverish revaluation of Tesla stock, there are also plenty of analysts who are calling for caution and don't believe that Tesla's story is as rosy as it looks.
Citron Research, the stock-commentary site founded by well-known activist short-seller Andrew Left, tweeted Tuesday that Tesla's own chief executive officer would bet against the stock if he were a fund manager, calling the shares "the new Wall Street casino."
Commenting on Tesla's meteoric rise, GLJ Research's Gordon Johnson declared the share surge to be a bubble that's "effectively Bitcoin on wheels."
The 14-day relative strength index (RSI), a gauge of the magnitude and persistence of price movements, stands at a whopping 92.5 for the automaker. In December 2017, when Bitcoin, known for its ferocious volatility, traded as high as $19,511, the 14-day RSI failed to break 91, according to Bloomberg data. As a rule, analysts consider an asset to be overbought when its RSI moves past 70.
On the demand side, it's not clear whether China will quickly become a profitable venture for Tesla. Electric vehicle sales have been weakening over the past several quarters in China as the government rolls back subsidies on alternative energy vehicles.
A slowing car market in China, the elimination of U.S. tax credits for Tesla buyers and the risk of Musk falling short again on his promises are some of the major obstacles that could decelerate the stock's rally in 2020.
Bottom Line
There is little doubt that Tesla is back on track after ramping up its production and building a factory in China that could prove a game-changer for the company's long-term profitability.
But the automaker has had only a handful of profitable quarters in its history and it has never been profitable on an annual basis. Without this track-record, we don't recommend buying Tesla stock at these extreme levels, especially given the stock's history of dramatic boom-and-bust cycles.

Written By: Investing.com