What people say and what they do often don't align. But that's not the case when it comes to Aurora Cannabis (NYSE:ACB), (TSX:ACB) CEO Terry Booth.
The chief executive of the Edmonton-based marijuana producer – one of the biggest players in the cannabis space – has made his intentions clear in both ways during the past week.
First, according to a report in Canadian Insider, Booth purchased 270,000 common shares of his company on Nov. 25. He purchased them on the open market at a price of $3.68 for a total of $993,600.
Then, four days later, Booth reiterated his optimism about his company's future prospects during an interview with BNN Bloomberg, while acknowledging that more turbulent times are probably ahead, especially for Canadian-based cannabis companies.
According to Booth, for growers that cannot keep a lid on the cost of producing the weed, especially as the industry deals with a growing oversupply, there will be what he called "carnage." He did, however, point out that Aurora has been successful in keeping its costs well in check. Said Booth:
"I think you'll see some carnage in the production area when people are growing it for $4 and $5 a gram. We're doing it for less than a buck."
"We're not going to want to get into any price wars, but if the market does go down in pricing because of oversupply, we're best prepared to deal with it."
Viewing the future through that singular lens raises a red flag for other big Canadian-based producers, including Canopy Growth (NYSE:CGC), (TSX:WEED) and Tilray (NASDAQ:TLRY). Both have seen their cost of production hover in the upper edges.
But there are many lenses needed to see the full kaleidoscope of this burgeoning industry.
Here is another lens to consider: acknowledging that Aurora's stock price has taken a battering in the latter part of 2019, Booth's recent purchase raises the question: is now the time to buy? Speculation is rife as to whether many cannabis stocks are hitting bottom and will rebound upward.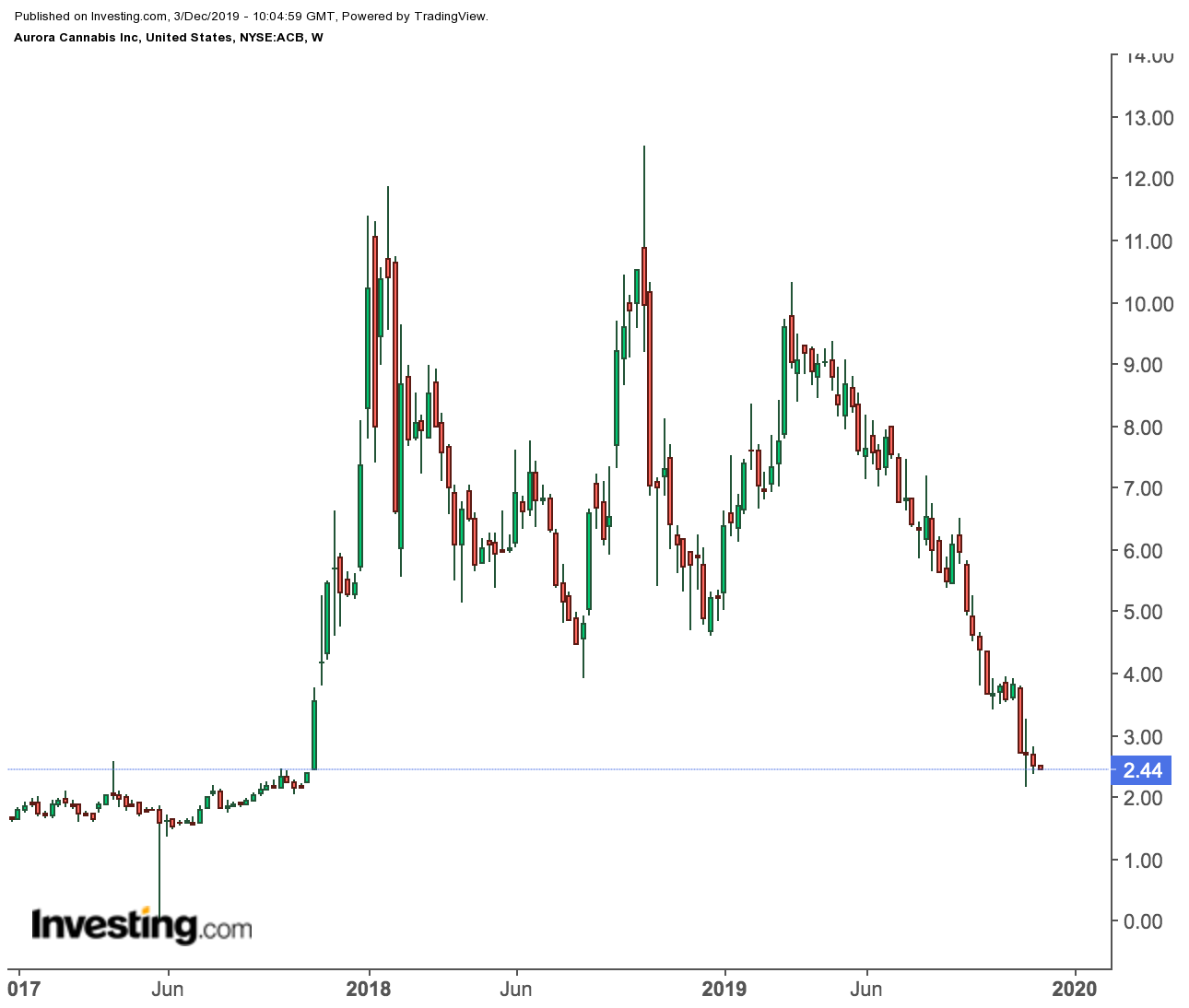 Adding to swings toward the upside, Aurora on Monday received its first approval to supply medical cannabis oil to Ireland. The product will now be available through Ireland's medical cannabis access program.
Shares of Aurora closed yesterday at US$ 2.44 (C$3.22), down 2.4% on the day.
CannTrust Still Reeling
The Toronto Stock Exchange has formally informed CannTrust Holdings Inc (NYSE:CTST), (TSX:TRST) that it is reviewing the company's eligibility to list its common shares due to a failure to file audited financial statements dating back to Dec. 31, 2018. This includes interim financial statements for the first, second and third quarters for 2019.
The notice to the embattled cannabis grower is a warning, stating: "If the company is unable to cure those defaults by March 25, 2020, the company's securities will be delisted 30 days following such date."
CannTrust shares are expected to continue trading normally until the March deadline.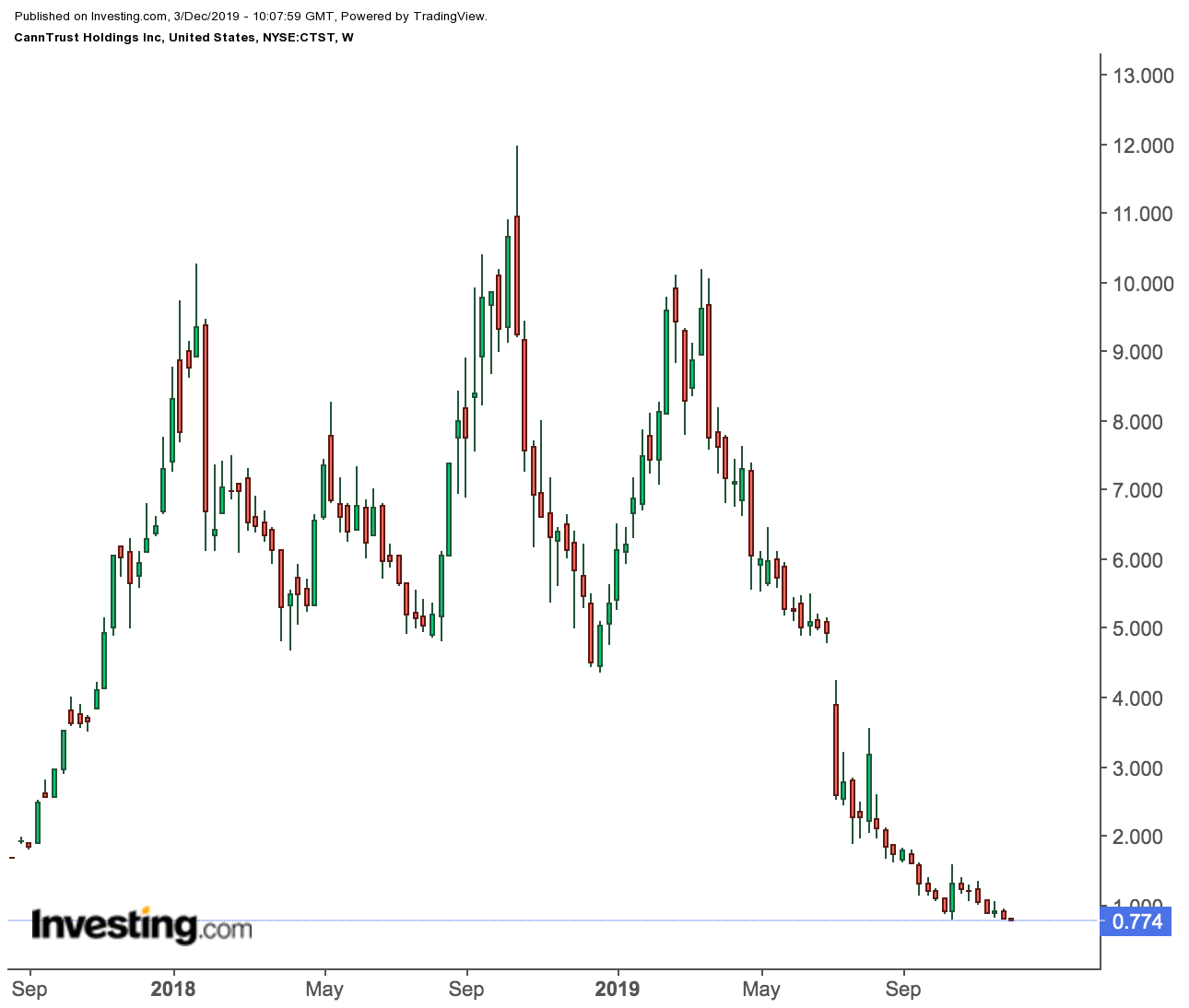 In August, CannTrust issued a statement as a result of Health Canada's decision to suspend its growing licences, stating it would have to review and possibly issue restatements of past disclosures. Those restatements have not yet been provided.
Health Canada had suspended CannTrust's licences following the discovery that it had been growing marijuana in unlicensed rooms at its facilities in Ontario. This triggered a cascade of consequences that included the firing of its CEO, suspension of its licence to sell and process product, it becoming the subject of class-action lawsuits and an order to destroy more than C$75 million (US$56.4 million) in products. Since April, the company's stock has lost more than 90% of its value. It closed down almost 3% on Monday, at US$0.774 (C$1.03).
One To Watch: OrganiGram Holdings
A little Canadian marijuana grower is quietly gaining traction on a small scale. In a sector awash with bad news, OrganiGram Holdings Inc (NASDAQ:OGI), (TSX:OGI) is attempting to balance itself with a little good news.
The New Brunswick-based grower boasts "one of the lowest cultivation cost per gram" as compared with other growers. During a time when the large companies are wrestling with their cost of production in a market that is seeing prices drop due to oversupply, this is no small feat.
It was a small shining beacon as the company reported its latest earnings last week.
The figures showed a net loss of C$22.5 million (US$16.9 million), while it's net revenue for the quarter that ended Aug. 31 was C$16.3 million (US$12.3 million), up substantially from the same quarter last year, where the figure was pegged at only C$3.2 million (US$2.4 million). But the latest quarter's revenues were down from the C$24.8 million (US$18.7 million) it realized in the previous three-month period.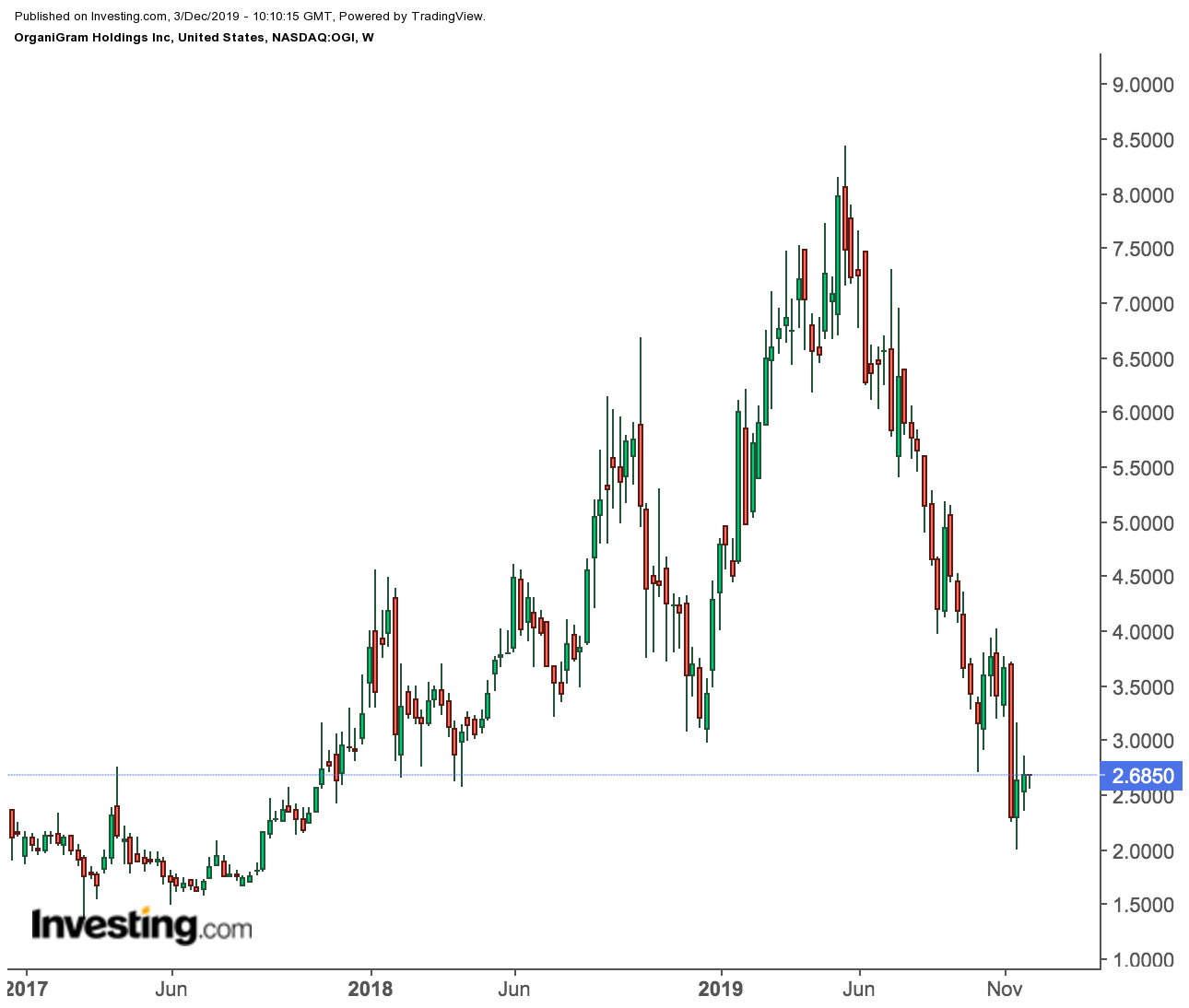 Despite the loss, the company offered guidance for revenues to improve, and outlined its plans for the so-called 2.0 cannabis products, which will be unveiled throughout the coming months.
The company has given notice that it intends to rollout vape pens in December, cannabis-infused chocolates in the first three months of 2020 and powdered cannabis drinks in the second quarter of 2020.
Adding to the results, Raymond James analyst Rahul Sarugaser reportedly stated in a research note that the company is "very well positioned to survive the industry's forthcoming turbulence and emerge as a sector leader."
The shares closed flat yesterday at US$2.69 (C$3.55).
Recreational Weed Now Legal In Michigan
The state of Michigan began the legal sale of recreational cannabis on Sunday, and expectations are running high.
State budget planners have set the target of US$1 billion (C$1.3 billion) in sales for the first fiscal year, which begins on Oct. 1, 2021. Revenue projections are expected to grow from there to US$1.5 billion (C$2 billion) in three years. But not everyone will have easy access, as about 1,400 of the state's 1,773 cities, towns and villages have opted not to allow recreational cannabis businesses to operate within their limits.
StatsCan Report Due Out Friday
On Friday, Statistics Canada is scheduled to release its latest study: "The retail cannabis market in Canada: A portrait of the first year."

Written By: Investing.com