This post was written exclusively for Investing.com
Three inflation data points suggest that investors may get as many as two more rate cuts in 2019. According to data from the CME Group, the odds for a 25-basis point rate cut in October have surged and are rising for an additional 25-basis point cut in December.
The reason for this bearish outlook on interest rates is due to disappointing wage growth, with the latest data for average hourly earnings coming in below expectations. Meanwhile, the year-over-year changes in the producer price index and consumer price index also came in lower than forecast. The weaker than expected readings have caused Treasury yields to decline since the beginning of October, which has created a divergence from other global bond yields.
The weaker inflation data will give the Fed the ammunition it needs to cut rates by up to 2 more times in 2019, without having to worry about the overall economy.
Slowing Wage Growth
Average hourly wages in the month of September came in at 2.9%, which was below expectations for 3.2%. Additionally, the reading for September was down from 3.2% in August and down from a cycle high of 3.4% in February, reversing a trend of faster wage growth to a trend of slowing wage growth.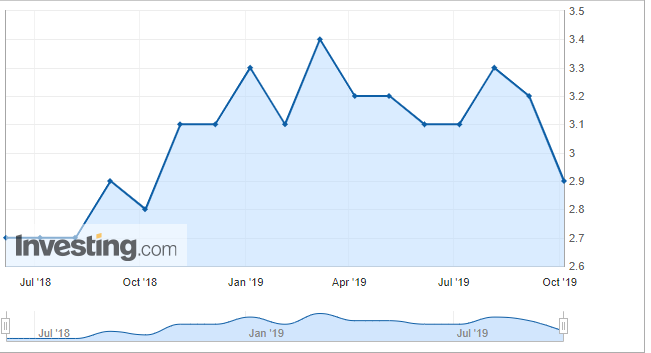 Weaker PPI and CPI
Additionally, the producer price index's latest reading showed that prices increased by 1.4% in September, which was lower than estimates of 1.8%. The rise in prices has dropped substantially since July 2018 when it stood at 3.4%.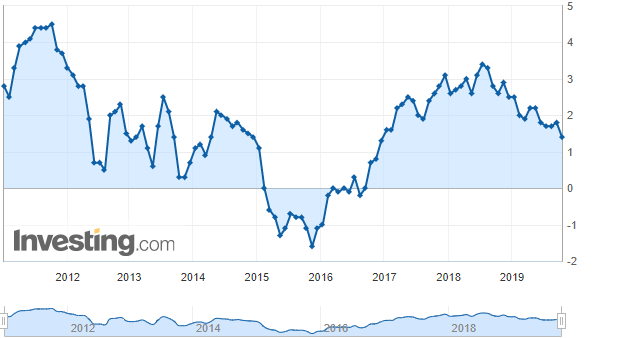 Also, the consumer price index for September rose by 1.7% year-over-year versus estimates for an increase of 1.8%. The year-over-year change in CPI has been at 2% or below for all of 2019.
The weaker-than-expected inflation data has resulted in the odds of a 25-basis point rate cut soaring for October to around 80% from about 40% at the end of September. Additionally, the odds for another 25-basis point rate cut in December have also risen to 36% from around 19% over the same time. Based on the data, it would mean that the effective fund's rate would be in a range of 1.25% to 1.5% following the Federal Reserve meeting in December.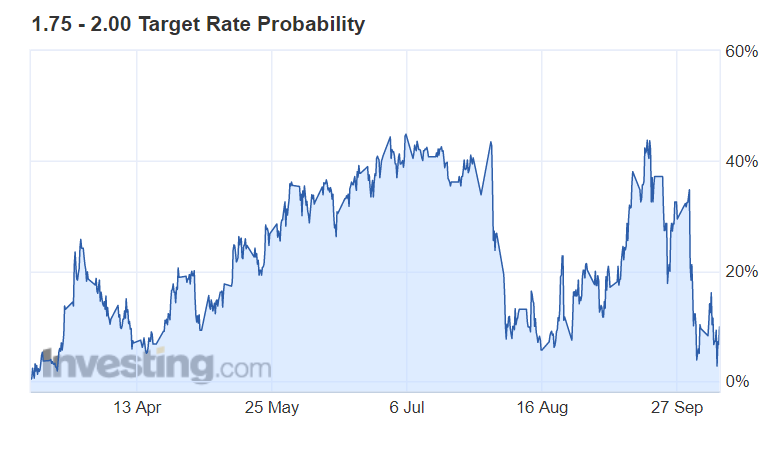 Inflation Expectations Fall
But it isn't only economic data points that are suggesting that the Fed needs to do more to lift inflation. Expectations for inflation are falling. Both 5- and 10-year breakeven inflation rates are near or at the lower end of their historical ranges. Currently, the 5-year breakeven inflation rate is at 1.24% as of October 9, while the 10-year inflation rate is at 1.49%.

The falling breakeven rates would indicate that investors are beginning to price in lower inflation in the future. As expectations for weaker inflation build, it may delay or push out consumers or business appetite to make purchases in anticipation of lower interest rates in the future.
Lower Rates Not Globally Driven
Since the beginning of October, the spread between U.S. and German 10-year bonds has fallen to roughly 2.15% from 2.35%, while U.S. and Japanese spreads have drifted from about 2% to 1.85%. It would indicate that U.S. yields are falling at a faster pace than global rates—a sign that the recent dip in U.S. yields is not due to rates falling globally.
A Need for Growth
While much can change between now and December on the inflation front, it isn't likely to change dramatically from the current trends. Perhaps a U.S.-China trade deal or, at the very least, an agreement between the two countries not to impose more tariffs on one another could help boost the global economy—Or help build confidence among market participants that growth will reaccelerate from its recent slowdown.
For now, the case is building that disinflation may be taking hold, and if that is the case then the Fed is likely to have two more rate cuts coming in 2019, and potentially another in early 2020.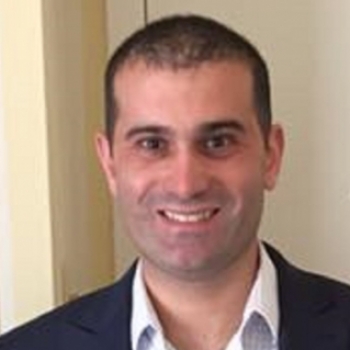 Written By: Michael Kramer