The last few trading sessions have seen increased volatility, coupled with rapid sell-offs in broader markets, but especially in shares that may be richly-valued.
At times like these, market participants searching for stability as well as passive-income tend to look at consumer staples stocks. Therefore, today we'll discuss Unilever (LON:ULVR) (NYSE:UL) and Reckitt Benckiser (LON:RB) (OTC:RBGLY)–two global consumer goods giants.
Why Invest In Consumer Staples Companies?
Regardless of the state of the economy, we all rely on basic items. That is where the consumer staples industry comes in. It is considered non-cyclical, while the demand is year-round. Thus, revenues and cash flows tend to be steady. Seasoned investors know they can count on these businesses over the long haul. Adding to their appeal, most also pay dividends.
U.S.-based investors typically pay attention to the S&P 500 Consumer Staples as it gauges the industry's strength. Sub-sectors include household products, beverages, food and personal hygiene products. During the market correction in 2018, consumer staples was the second-worst performing sector, after energy. Yet, 2020 has meant different dynamics for the industry.
When we consider the increased demand in global citizens' essential needs, such as during the earlier days of the COVID-19 pandemic, adding shares of consumer staples companies may decrease the overall volatility of a portfolio.
The consumer staples sector has many high-quality companies that have famous brands and robust fundamentals. And we would regard Unilever and Reckitt Benckiser as two of the best in class.
Unilever
In late July, the fast-moving consumer goods giant announced first half-year results. Underlying sales (which are comparable to organic sales in U.S.-based companies) decreased by 0.1% in the six-month period that ended in June. Analysts had expected the number to be a lot worse.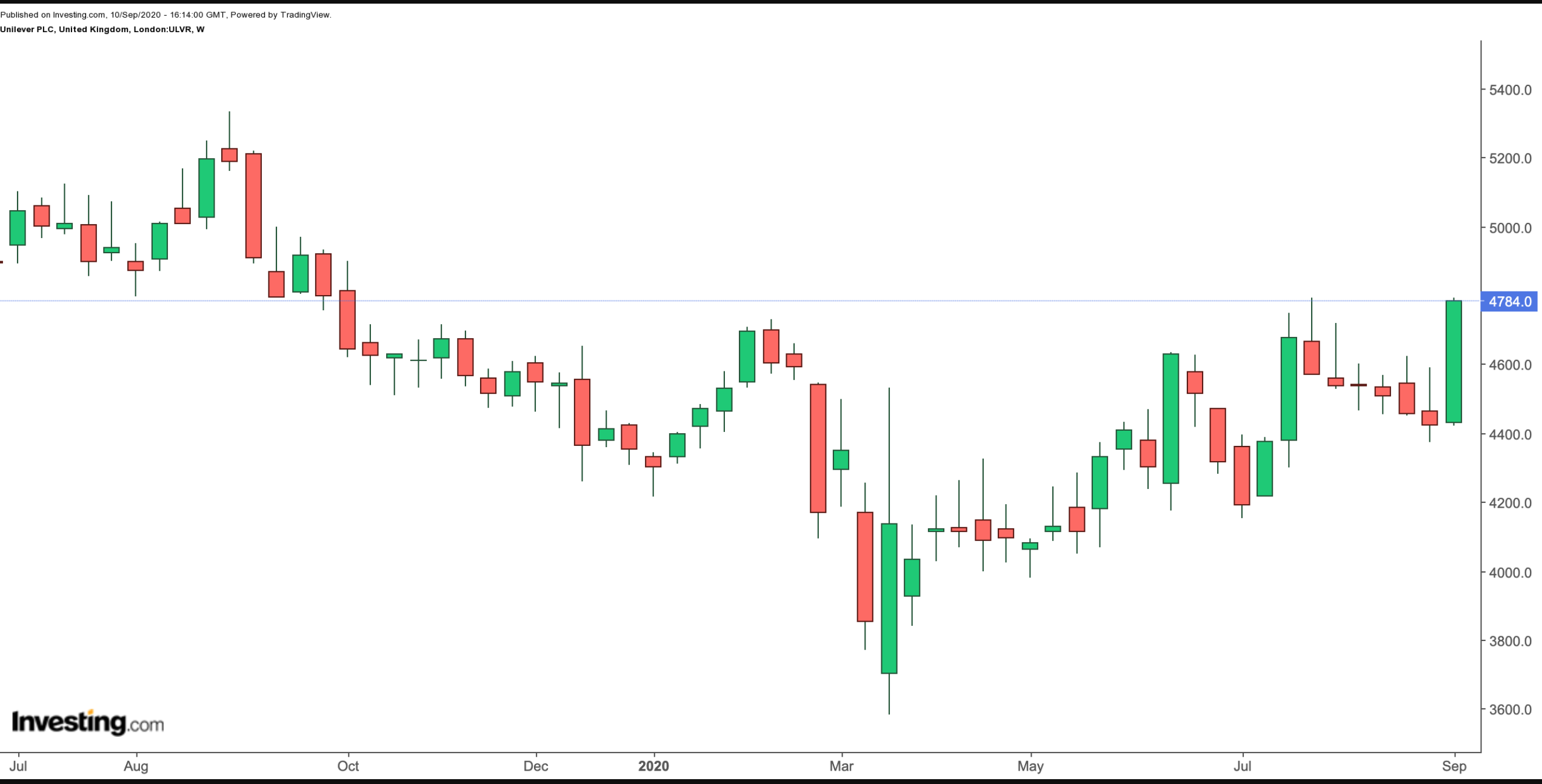 Underlying earnings per share increased by 6.4%, including a negative impact of 3.7% from currency fluctuations. Investors welcomed the trading metrics, including performance in North America as well as levels of free cash flow and liquidity.
Unilever CEO Alan Jope said:
"Our focus for the rest of 2020 will continue to be volume-led competitive growth, absolute profit and cash delivery, as this is the best way to maximize shareholder value."
Unilever operates in three segments–personal care (the most important segment by revenue), home care, and foods and refreshment. Due to changing consumer habits and various lockdowns during the pandemic, performance across categories varied.
On a given day, households worldwide use many of Unilever's brands, including Lipton, Knorr, Colman's, Marmite, Magnum, Ben&Jerry's, Cif, Dove, Persil, Rexona, Surf and Vaseline.
In the first half of 2020, food items and beverages, including ice cream and tea, benefitted. So did hygiene products. However, sales in cinemas and restaurants were understandably down.
Year-to-date, the shares are up about 9%. This increase does not include the juicy dividend yield of more than 3%. Unilever shares closed yesterday at $4,784 in London and $61.09 in New York. Forward P/E and P/S stand at 20.41 and 2.66, respectively.
We believe the shares would offer a better margin of safety in the case of a 5%-7% drop in price.
Reckitt Benckiser

Reckitt Benckiser also released half-year and Q2 2020 results in late July. Like-for-like (LFL) revenue was up 11.9%. Operating profit margin was 24.5%. Overall, analysts were impressed with the metrics.
CEO Laxman Narasimhan highlighted:
"We have the largest portfolio of surface disinfectant brands, including Dettol, Lysol and Sagrotan.... Overall, our leadership in e-commerce has helped deliver very strong sales growth of over 60%, with e-commerce sales now estimated to account for 12% of first half group net revenue."
The company reports revenue in two segments: hygiene (about 40% of revenues) and health. Several well-known brands include disinfectant Dettol (revenues went up over 60%), as well as Lysol, Mucinex, Nurofen, and VMS. Hygiene products saw robust double-digit growth in most regions, including North America.
The company typically sees increased spending in its health products in fall and winter, which may likely benefit results in the second-half of the year.
So far in the year, shares are up about 20%, which technically puts them in bull market territory. They closed yesterday at $7,564 in London and $19.34 in New York. The current stock price supports a dividend yield of slightly more than 2%. Forward P/E and P/S stand at 24.81 and 3.95, respectively.
Like Unilever shares, we'd feel more comfortable investing in Reckitt Benckiser for the long run if the price were to decline around 5%.
Bottom Line
September is continuing on a choppy note. A contracting economy from the pandemic poses risks that may adversely affect broader indices in the rest of the year.
Yet, we believe there are still plenty of robust companies that may be well suited for many portfolios worldwide. Even if the economic contraction were to continue longer than initially anticipated, buying the dips in either Unilever of Reckitt Benckiser may provide a degree of diversification.
Their managements are proactive in reshaping the portfolio to better serve changing consumer trends in the current environment. Finally, both companies are making impressive headways in fast-growing economies, including emerging markets. Therefore, investing in either one would provide global exposure for long-term portfolios.
Three other U.S.-based consumer companies that may be similarly appropriate are Colgate-Palmolive (NYSE:CL), Clorox (NYSE:CLX) and Procter & Gamble (NYSE:PG).
Investing.com is likely to cover the sector again in the coming weeks.

Written By: Investing.com