Stocks on Wall Street ended mixed on Friday to cap off another volatile week, as investors monitored the start of the third quarter earnings season. 
Despite Friday's choppy performance, the Dow and S&P 500 rose 0.1% and 0.2%, respectively, to notch their third straight weekly gain. The NASDAQ meanwhile climbed 0.8%, posting a four-week winning streak.
Looking ahead, here we'll highlight one stock which has proven it can successfully navigate the current market whipsaw and another likely to see further losses in the coming days.
Stock To Buy: Chipotle Mexican Grill
Chipotle Mexican Grill (NYSE:CMG) has been one of the best performers in the restaurant sector this year, as stay-at-home measures aimed at reducing the spread of the COVID-19 pandemic fueled demand for its mobile ordering options, especially among young people.
Year-to-date, shares of the Newport Beach, California-based fast-casual Mexican chain have gained 60%, easily outpacing the S&P 500's nearly 8% rise over the same timeframe.
The stock, which hit an all-time high of $1,383.68 on Sept. 2, has outperformed other notable names in the sector since the start of the year, such as Domino's Pizza (NYSE:DPZ) and McDonald's (NYSE:MCD). Chipotle closed at $1,339.68 on Friday, giving it a market cap of roughly $37.5 billion.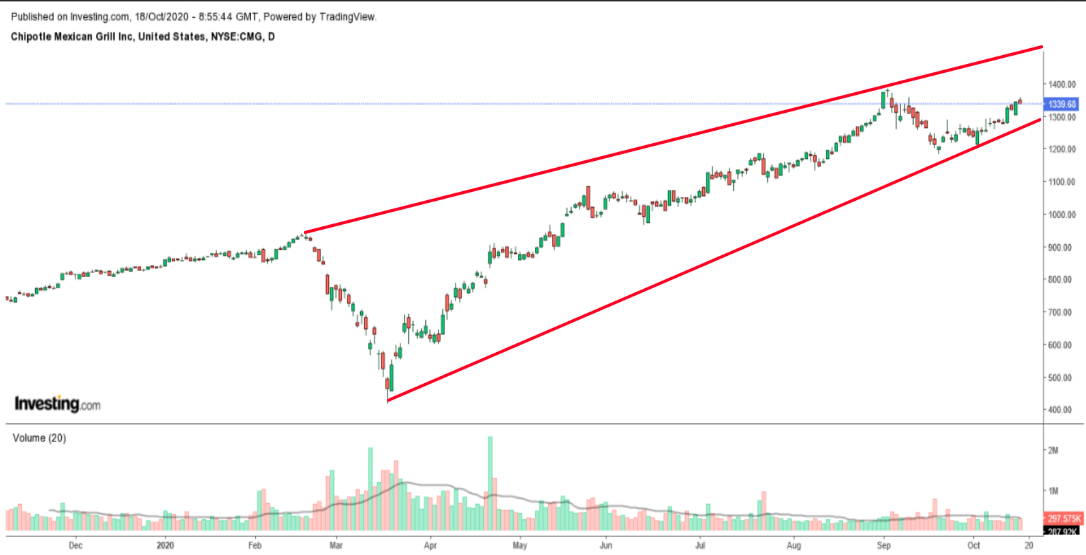 After beating earnings and revenue targets in the second quarter, Chipotle is projected to report third quarter results on Wednesday, Oct. 21 after the closing bell.
Consensus estimates call for the burrito chain to post earnings of $3.43 per share, surging more than 750% from EPS of just $0.40 in the preceding quarter.
Revenue is forecast to jump 17% quarter-over-quarter to $1.59 billion, as consumers flocked to its digital app to order delivery and takeout amid the ongoing coronavirus pandemic.
As such, investors will pay close attention to growth in Chipotle's digital sales, which soared by a whopping 216% in the previous quarter, accounting for approximately 61% of total quarterly revenue.
We expect Chipotle to post an impressive quarter once again, driven by its decision to upgrade its digital ordering infrastructure and delivery service in response to the coronavirus outbreak.
Stock To Dump: Fastly
Cloud computing services provider Fastly (NYSE:FSLY) specializes in helping other businesses speed up their websites, apps, video and streaming offerings on mobile devices. Shares of the edge cloud company lost more than a third of their value last week after warning that third quarter results would fall short of previous guidance, due to lower-than-expected demand from its largest customer, social media platform TikTok.
CEO Joshua Bixby said on his company's Q2 earnings call in August that China-based TikTok—which President Trump has threatened to ban in the U.S. because of national security concerns—accounted for about 12% of Fastly's revenue in the first six months of the year.
The content delivery specialist saw its shares plunge 33% last week to $84.67, giving it a market cap of roughly $8 billion.
The stock is now down almost 38% since hitting an all-time high of $136.29 on Oct. 13.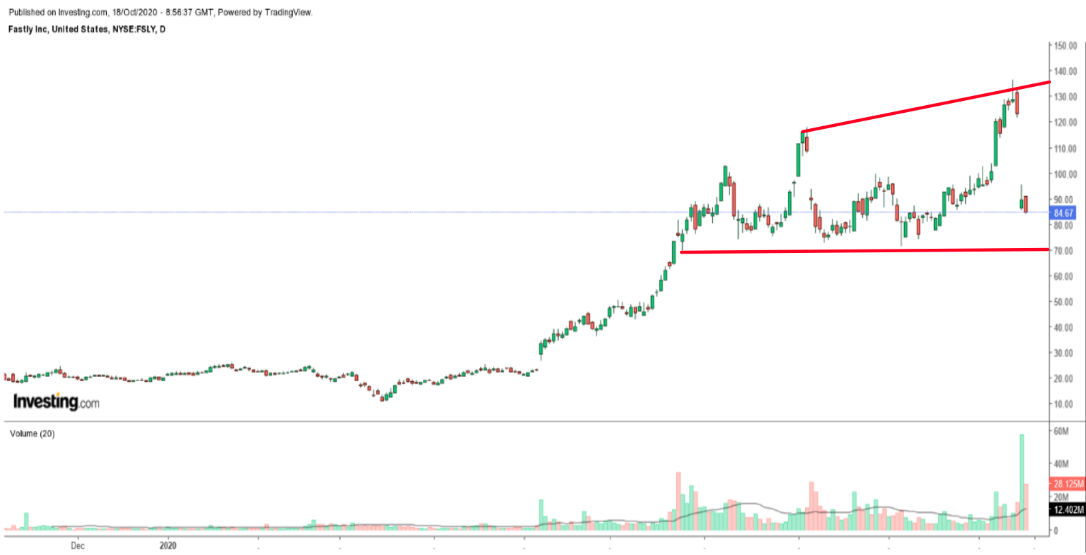 The San Francisco-based company—which enjoyed massive year-to-date gains of as much as 530% at one point this year—said it expects Q3 revenue of about $70 million to $71 million, compared to earlier forecasts of $73.5 million to $75.5 million.
"Due to the impacts of the uncertain geopolitical environment, usage of Fastly's platform by its previously disclosed largest customer did not meet expectations, resulting in a corresponding significant reduction in revenue from this customer," the company disclosed in a preliminary third-quarter earnings report on Oct. 14.
It also referred to lower-than-expected usage from a "few" other unspecified customers.
Fastly is scheduled to release full Q3 results on Wednesday, Oct. 28 after the close.
Taking all this into consideration, Fastly shares look set to remain on the backfoot in the days ahead as investors brace for disappointing financial results later this month.

Written By: Investing.com