The ECB, meeting today, has cut interest rates, which were already in negative territory, even further. But deeper negative rates, having already failed to boost the European economy, will almost certainly clear the path to an extended long-term slide for the single currency.
The European Central Bank introduced negative rates in June 2014. The theory posited that the upside-down rate policy would kickstart the economy. Banks penalized for hoarding cash would be forced to reintroduce the capital into the monetary system to lubricate and encourage financial transactions. However, sound as the theory may be, a decade of muted growth suggests it has failed.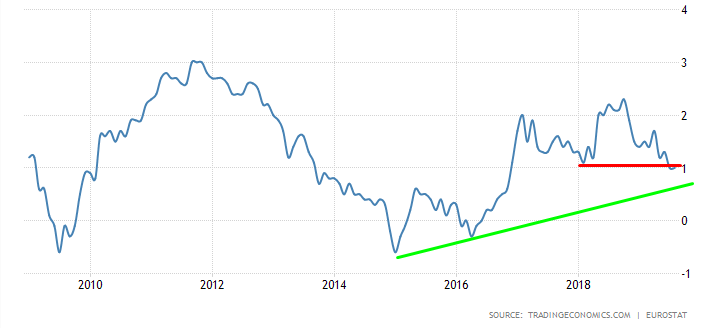 The unprecedented rate reversal policy has failed to spur prices above the 2011 high and is now showing signs of ending the uptrend since the 2015 bottom.
Following the IFO forecast that Germany will fall into recession this quarter, today's ECB announcement shows it's becoming even more dovishly aggressive, including cutting its deposit rate, relaunching asset purchases and introducing a tiering system for bank deposits.
With the euro already near a two-year low, is extreme easing priced in? The chart offers a bit more insight.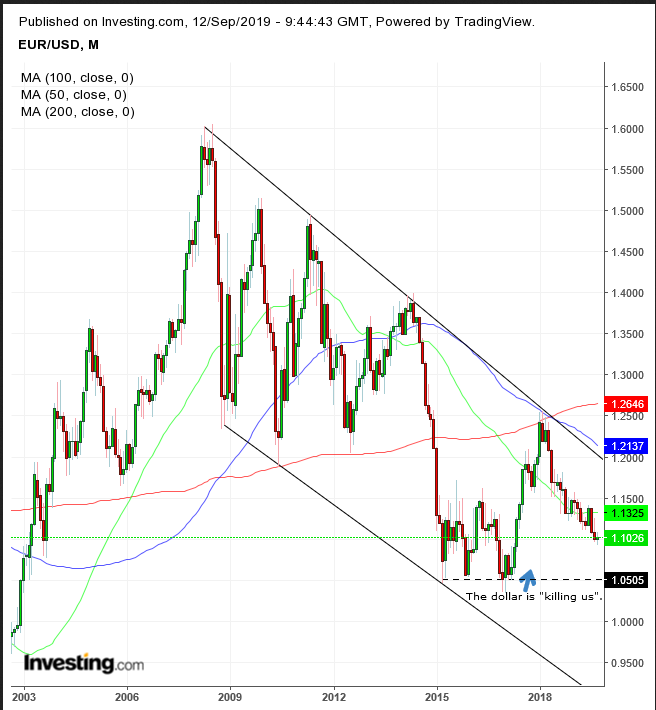 The 2008 crash hit the common currency, propelling it into a long-term downtrend from which it never recovered. Taking a wide view shows how relatively insignificant the effect of U.S. President Donald Trump's condemnation of the strong U.S. dollar has been. It didn't even make a dent in the monthly death cross for the first time since the euro's inception. What was considered at the time a sharp dollar selloff was proven to be nothing more than a technical correction.
The euro has been trading within a falling channel since 2008, with the next presumed demand based on past price action likely to be 1.1050. If that breaks, the next support is the 0.8500 level, its lowest ever.
Trading Strategies
Conservative traders would wait for a potential return move toward 1.1100 at the top of a falling channel since June and wait for trend confirmation.
Moderate traders may wait for the pullback for an entry closer to resistance but not necessarily wait for proof of resistance.
Aggressive traders may short according to a trading plan.
Trade Sample

Entry: 1.1050
Stop-Loss: 1.1100
Risk: 50 pips
Target: 1.0900
Reward: 150 pips
Risk:Reward Ratio: 1:3

Written By: Investing.com