On Wednesday, Jan. 27, electric carmaker Tesla (NASDAQ:TSLA) is scheduled to report Q4 2020 earnings results after the closing bell. We expect an EPS of $1.04, on revenue of $10.47 billion, versus last year's $2.14 EPS and $7.38 billion for the corresponding quarter.
Clearly, YoY EPS expectations are considerably lower than last year. So why did Tesla shares notch a new record yesterday, gaining 4% to close at $880.80 ahead of the Palo Alto, California-based company's next quarterly report?
A number of reasons. For starters, Tesla's overall success has always been based on faith in the company and its charismatic founder, CEO Elon Musk. Indeed, the same kind of investor—someone who doesn't care about traditional methods of determing measurable value—is likely also behind the breathtaking ascent of Bitcoin. Jim Cramer, the host of CNBC's Mad Money, has said it's young investors who are driving up Tesla's stock as they are willing to pay any price to help Musk achieve his dream and be part of the effort at the same time.
Additionally, if investors were willing to buy the company's stock when it was divorced from fundamentals, now that the electric vehicle manufacturer has posted its fifth quarter of profitability in a row, as of its Q3 report, why wouldn't they be all-in now?
Further bolstering the stock, the EV stalwart was added to the S&P 500 Index at the end of December, a prestigious club that provided additional cachet and a stamp of legitimacy. Plus, on a more practical level, Tesla's inclusion on the broad benchmark also forced fund managers to buy tens of millions of shares in order to add them to the $5.4 trillion in index funds that track the S&P 500.
As well, Tesla's vehicle deliveries, a key metric for the company that historically had missed its targets, surged during Q4 2020.
Recently, Paul Pelosi, House Speaker Nancy Pelosi's husband, bought up to $1 million worth of stock options, betting that Tesla will rise. With the Democrats now in the White House, and holding majority control of both houses of Congress, he's well aware that green initiatives are high on the new government's agenda.
Analyst Ben Kallo of Baird Investment Banking has doubled his target on Tesla stock, providing a price target of $728 per share, up from his previous $488 call. Kallo upgraded his call based on the company's expanded manufacturing capacity with operations now in Shanghai as well as new facilities being built in Berlin and Texas. Kallo also predicts that Musk may overhaul his entire enterprise, combining all his companies—which also include SpaceX and Neuralink—into one business.
After our bullish call in August, which was realized, the supply and demand dynamics defied our expectation of a pullback in December as the stock's rise accelerated. Current market forces point to a continued trajectory higher.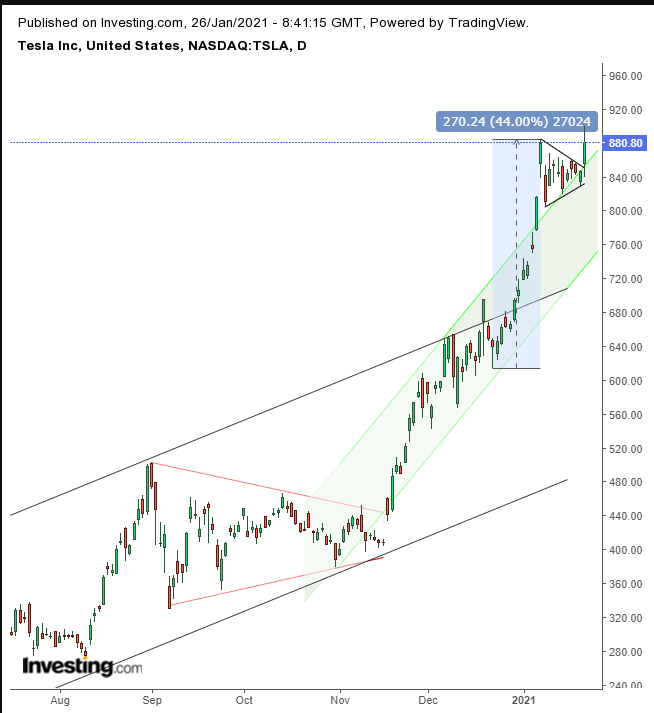 Tesla's surge to a new record yesterday, ahead of corporate results, was a signal that investors—including smart money, and perhaps even informed money— expect earnings to beat.
The price broke the topside of a pennant, extremely bullish after the 44% surge in just two weeks. The bullish implication is amplified after the price elevated its pace ahead of earnings. This included a recent upside breakout from the rising trading channel, in place since the March low, that occurred ahead of the Jan. 20 presidential inauguration.
The moves confirmed the elevated trend from the low of Oct. 30, before the Nov. 3 general election, which ended up breaking out of a symmetrical triangle on Nov. 18. Then, less than four weeks later it broke out of the rising channel on Dec. 30, ahead of the Biden inauguration.
The pennant developed right above the recent, faster rising channel, and its upside breakout used the top of the rising channel as a floor, suggesting an even steeper climb going forward.
Trading Strategies
Conservative traders should wait until after the report, and if we're right and the price jumps, wait for a pullback.
Moderate traders would wait for confirmation, at least from today's trade, that the price remains above the pennant.
Aggressive traders could enter a long position now, provided they understand and accept the risk, and are committed to a prepared trade plan.
Here's just one example:
Trade Sample
Entry: $870
Stop-Loss: $820
Risk: $50
Target: $1,120
Reward: $250
Risk:Reward Ratio: 1:5

Written By: Investing.com