Zinc prices plummeted 4.5 percent today, hitting their lowest level in almost 13 months, after the Trump administration threatened further tariffs on an additional $200B worth of Chinese goods. The record low for the base metal prompted aggressive traders to bid prices back up, erasing about half of the earlier selloff. It may also be presenting bargain hunters with even greater opportunities.
According to JP Morgan analysts, the commodity remains significantly underpriced: in its third-quarter 2018 Guide to the Markets update, the US investment bank pointed out that zinc is currently trading markedly below its mean price.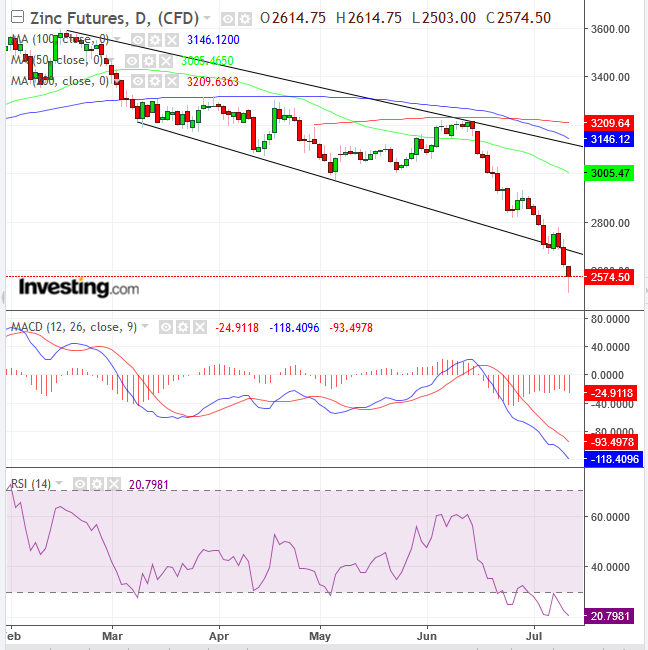 The weekly RSI is in the most oversold condition since September 2015, while the daily indicator is also at the most oversold level in years. Today's low of 2503.00 indicated that traders responded to the psychological, round number of 2500.
Should prices close at these levels, they would form a hammer, a candlestick indicating that bulls might be taken over after a decline, forcing bears into a short squeeze, prompting further rallies. The MACD tracks the RSI's pattern. Should the hammer come through, the RSI and MACD are poised to provide the most active buying signals in years.
Trading Strategies – Long Position Setup
Conservative traders would avoid this trade, as they only trade in line with the trend, and this one is severely down.
Moderate traders may risk a small position, if tomorrow's trading confirms demand at these levels, followed by a retest of the support level, to allow for entry, with a close stop-loss.
Aggressive traders might enter after the closing price confirms the hammer.
Equity Management
Entering a position based on overheated price action is not trading but rather gambling. A true investment only occurs after establishing a risk-reward ratio that is acceptable to the investor, with an advisable minimum ratio of 1:3.
Trade Examples
Conservative
Moderate
Entry: 2,505
Stop-loss: 2,500 Risk: $5
Target: 2,600 Reward: $100 Risk-Reward Ratio: 1:20
Aggressive
Entry: 2,575
Stop-loss: 2,550 Risk: $25
Target: 2,650 Reward: $75 Risk-Reward ratio: 1:3

Written By: Investing.com