Bitcoin, which in late June briefly jumped past $13,000 to gain 236% during 2019 up to that point, has since been reversing course. As of yesterday that slide appears to have accelerated.
The most popular cryptocurrency by market cap slumped more than $600 in 30 minutes, falling back below $10,000 on Wednesday. Today it's down 2.8%, or -$270.6, heading lower for the third day, trimming a total of 8.85%, or $920, so far this week.
Nevertheless, even after a $3,290 or 25.5% drop since its high, Bitcoin is still up $,5606 or 146.35% for the year.
There's little clarity on why the cryptocurrency started moving higher, though some credited Facebook's (NASDAQ:FB) Libra project, while others point to a rush to get in before halving, where the number of coin rewards generated will be divided by two.
The fundamentals behind Bitcoin's current plunge are equally murky. But the technicals are clear: the downside breakout of a pattern that—should the price close lower—suggests sellers have overwhelmed demand and are starting to lower their offers in order to find new buyers.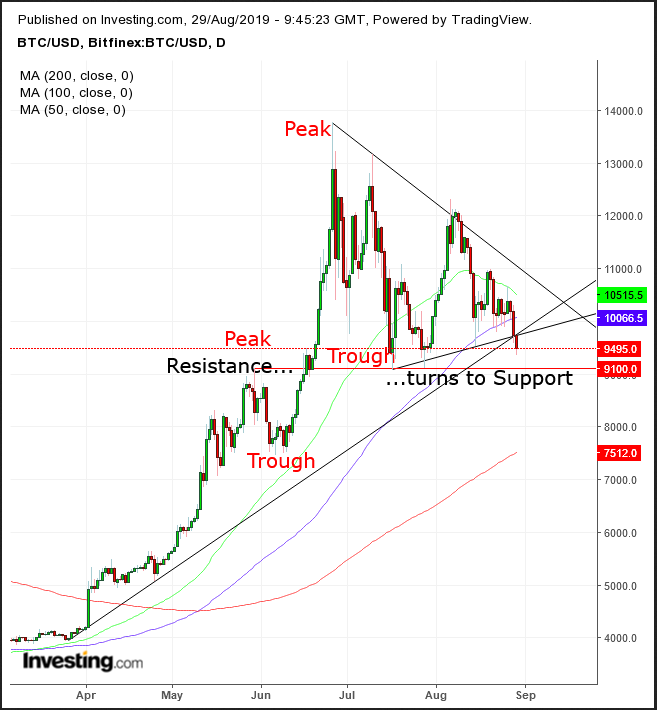 The price has fallen below the bottom of a symmetrical triangle. This pattern's converging trendlines demonstrate an impasse between buyers and sellers. The downside breakout demonstrates that the stalemate has been resolved in favor of the bears.
If prices lock in below the triangle, it would be a signal that the market has synced into a coherent downtrend. Adding emphasis to this scenario: the downside breakout coincided with that of the uptrend line since late March.
The next break would be the support line between the May 30 high and the July 17 low, at $9,100. However, even then, the peak-trough succession would still be up.
Trading Strategies
Conservative traders would short after a descending peak and trough series or go long after a high above the June 26, $13,764 peak to extend the uptrend.
Moderate traders may short after the price closes below the $9,100 presumed support line.
Aggressive traders may short after a close below the triangle.
Trade Sample
Entry: $9,750, upon a rally
Stop-Loss: $10,000, to absorb a return move to the key figure
Risk: $250
Target: $9,000
Reward: $750
Risk:Reward Ratio: 1:3

Written By: Investing.com