Shares of Canopy Growth (NYSE:CGC), (TSX:WEED) continued their downward trajectory yesterday, triggered by the company's major miss at the end of last week, when it reported a C$1.3-billion (USD $946.2 million) fourth-quarter loss.
If Monday's more than 5% drop in share price could be described as a sound, it was that of the other shoe dropping in the wake of the Smith Falls, Ontario-based company's disastrous earnings results, as several analysts opened the week by downgrading the stock.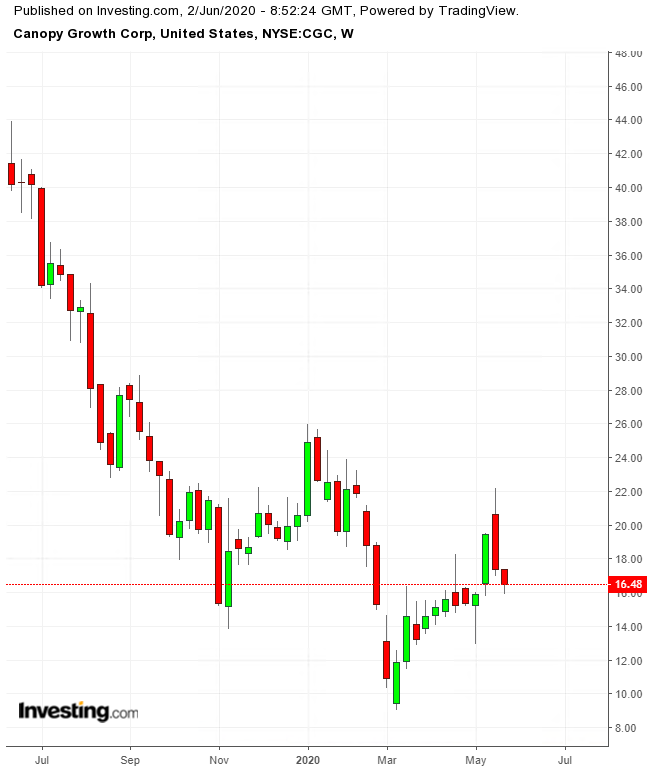 At the close yesterday, Canopy hit US$16.48 in New York and C$22.26 in Toronto, a drop of almost 7%. That was on top of the 20% slide the stock took on Friday, as the Canadian cannabis grower announced it would pull back on its strategy of attempting to be first to every market.
Analysts with some of the major banks in Canada—including the Bank of Montreal, the Royal Bank of Canada and CIBC—said the marijuana giant needs to work at regaining its market share in Canada, while others pointed to its announced intentions to focus on its core markets in Canada, the U.S. and Germany as being sound.
Canopy's net revenue for the quarter was pegged at $107.9 million, which was up from the $94.1 million recorded in the same three-month period in the previous year. The company last Friday also stepped back from its aim of becoming EBITDA positive by the end of 2022, citing hurdles and uncertainties related to the COVID-19 crisis.
Markets reacted immediately on Friday, as the plunge in Canopy's share price dragged down other players in the sector, including Aphria (NYSE:APHA), (TSX:APHA) and Aurora Cannabis (NYSE:ACB), (TSX:ACB), which saw drops of 4.5% and 8.4%, respectively.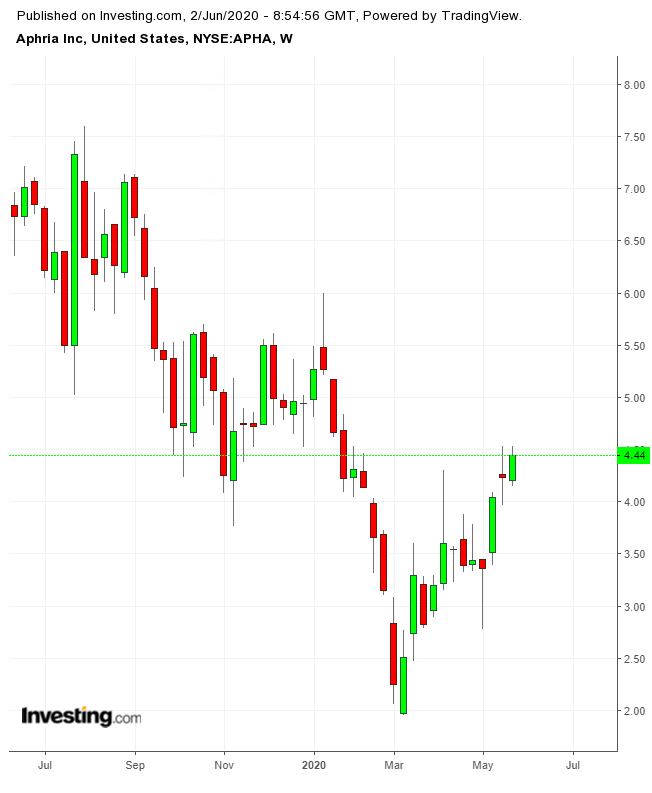 But these two stocks bounced back on Monday. Aphria gained almost 5% in New York to close at US$4.44 and in Toronto at C$6, an increase of about 3.25%; Aurora rose slightly to close at US$14.10 in New York. The bounce in these stocks to open the week is being attributed to analysts highlighting how Canopy's performance tends to drag on the whole sector, but its latest results should be viewed through a narrow lens and are specific to issues Canopy is facing.
They recommended investors take advantage of the sector reaction and buy the dip in Aphria and Aurora.
Auxly Marks 2.0 Milestone
The Auxly Cannabis Group (OTC:CBWTF), (TSXV:XLY) distinguished itself Monday by posting what is being referred to as the highest cannabis 2.0 sales of any Canadian company as it reported its first quarter results.
The Toronto-based cannabis company, which is traded in both Canada and the U.S., posted revenues of C$9.9 million (USD $7.3 million) and ended the quarter with a net loss of C$12.8 million (USD $9.5 million).
The company's shares gained 4.3% in the OTC markets in New York to close a US$0.3025. The stock hit a 2019 high of US$0.8125 in August of last year.
The 2.0 products Auxly specializes in are chocolate edibles and vapes.
CannTrust Saga Inches Along
Is it a glimmer of hope or just a footnote in the story of the epic slide of CannTrust Holdings (OTC:CNTTQ)?
The embattled Canadian-based cannabis grower last week received notice that the growing licences for its greenhouse operations in the Niagara region in Ontario will be reinstated. But will that make a difference?
The once prominent marijuana company, whose shares were delisted from New York Stock Exchange on April 27, followed by their delisting on the Toronto Stock Exchange on May 6, will now be allowed to restart its operations at those facilities. The company is still waiting, however, to hear about the fate of its facility in Vaughan, Ont.
The company has been under creditor protection since March, a move that followed the admission that it had been growing pot in unlicensed rooms last year. That started the grower's fall from grace which resulted in its market cap being virtually wiped out.

Written By: Investing.com