The dramatic and disastrous slide of CannTrust Holdings (NYSE:CTST), (TSX:TRST) continues. The Canadian cannabis company just keeps spiralling downward. Even when you think it can't get worse, it does, and its stock drops lower again.
Yesterday, was no different. The stock lost 7.3% in New York to close at US$1.65 and was down 6% on the S&P/TSX Composite in Toronto, ending the day at C$2.19. The company has lost more than 80% of its value since late March.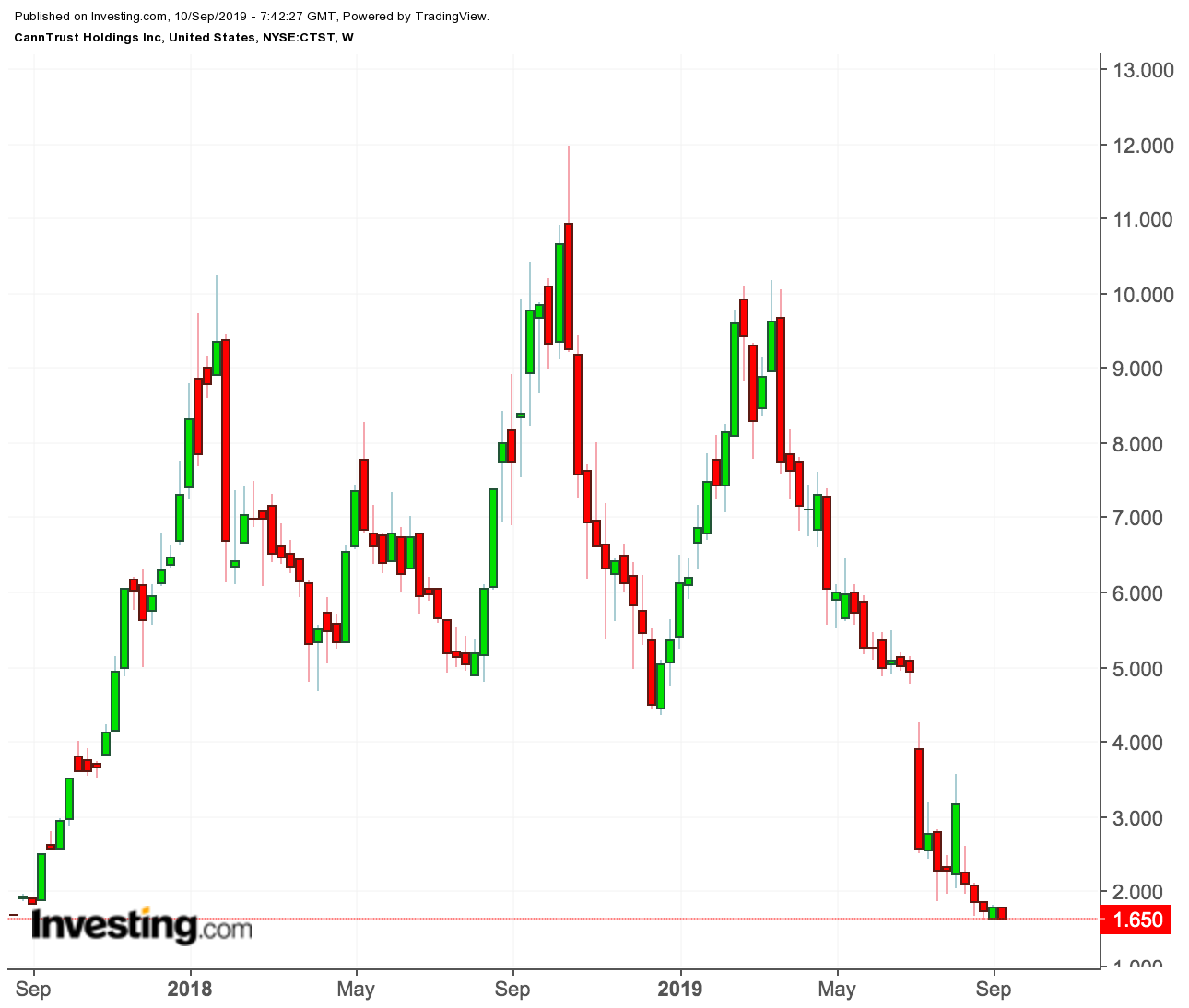 In fact, CannTrust is expected to be dropped from the main Canadian stock index later this month. The news of the pending delisting is the latest blow leveled at the Ontario-based marijuana grower that was thrown into crisis earlier this summer when it revealed it had been growing cannabis in unlicensed rooms in its facility in Pelham, Ont.
Under Investigation
Since then, a series of reports — including the firing of its CEO, the withdrawal of all products from the market and for export and, the latest, how the company used black-market seeds leading to illicitly-grown pot being in the legal market — have pummelled the company's reputation and stock price.
Health Canada, which regulates the marijuana growing operations, is still investigating. When the probe is completed, penalties slapped on CannTrust could include the revoking of its growing licences.
Index Woes
The Toronto Stock Exchange is expected to announce changes to the index on Sept. 13. If CannTrust is dropped, the sound heard will be that of a bottom being hit.
Inclusion on the index is determined by a multi-faceted formula, which includes its share of the overall index and the size of its public float. This block of shares must represent a minimum of 0.04 per cent of the overall index. Analysts have calculated CannTrust's float at about 0.012% of the index.
Class-Action
If that was not bad enough, yesterday was the deadline for investors to be included in a class-action suit being planned against CannTrust in Canada. The suit includes investors who purchased stock between Oct. 1, 2018, and July 5. On July 8, CannTrust officials publicly disclosed that its facilities did not meet compliance standards.
The case alleges that:
"CannTrust and certain of its officers and directors made misrepresentations by issuing documents, public statements, and prospectuses, which represented that CannTrust was in material compliance with all laws, regulations, licenses and permits and failing to make timely disclosure of the unlicensed cultivation."
Last week, CannTrust laid off about 180 employees. The workers represent about 20% of the company's workforce in Ontario, mainly cultivation and customer service personnel. The move is designed to cut about C$9 million (US$6.8 million) in operating costs.
"We have made the extremely difficult decision to restructure our workforce to reflect the current requirements of our business," Robert Marcovitch, interim chief executive of CannTrust, said in a statement.
Will CannTrust Assets Be Sold?
As observers watch CannTrust swirl round the drain and openly discuss the damage its ongoing scandal has inflicted on the sector, other companies are eyeing its assets because it's sometimes hard to drive by a good garage sale without slowing down to just see if there are any bargains.
No one has actually stopped yet to make an offer – at least not publicly, but they are thinking about it.
In an interview last month, Aphria (NYSE:APHA), (TSX:APHA) CEO Irwin Simon expressed the need to restore confidence, but refused to say if the Ontario-based marijuana producer would consider buying CannTrust assets. But he did not categorically deny it either.
And given Aphria's last earnings report, where it unveiled its first profitable quarter, it might be in the market. Aphria earned C$15.8 million (US$12 million) in its fourth quarter that ended May 31 on revenue of C$129 million (US$97.8 million). Both revenue and earnings stood out in a sector that is awash with losses. But one of the smaller items of note from its disclosures was a mention of how it has improved its governance practices, a move its directors hope will help investors maintain confidence.
Aurora Cannabis Reports Sept. 11.
And speaking of fourth quarter reports, Aurora Cannabis Inc (NYSE:ACB), (TSX:ACB) will reveal its latest earnings tomorrow after the markets close.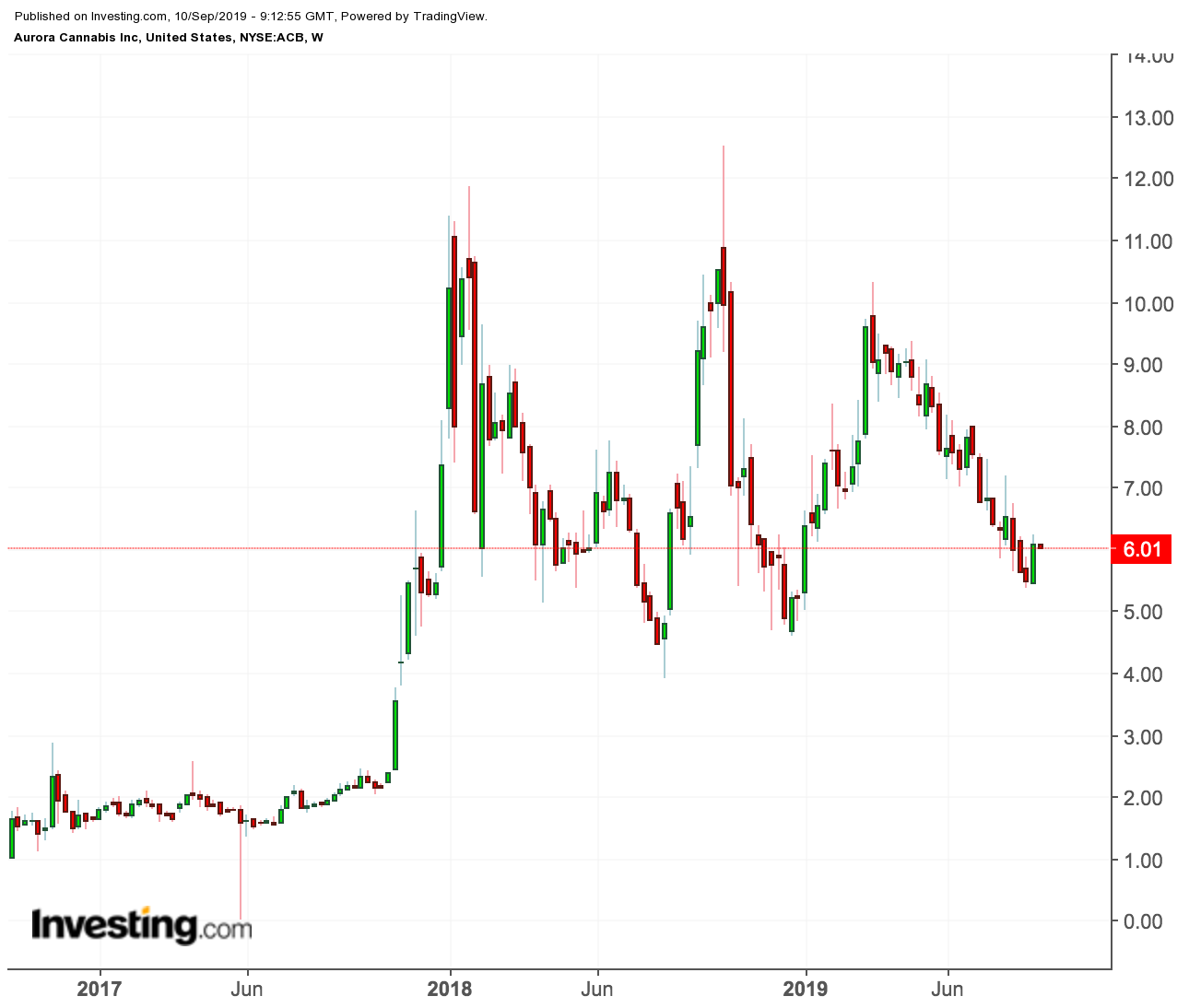 The company's preliminary results have set the stage for an increase in revenues. In addition, last June, the Edmonton-based grower that specializes in medicinal cannabis said it plans to expand into the consumer markets that includes concentrates and edibles. It will be interesting to see how investors will react.

Written By: Investing.com