With just a few days until the Dec. 15 deadline for the U.S. to impose new tariffs on $156 billion worth of imports from China, investors will be closely watching the trade war headlines.
The Wall Street Journal reported on Tuesday that Washington plans to delay the implementation of additional tariffs on Chinese goods, while White House economic adviser Larry Kudlow said they were "still on the table."
Despite the ongoing conflicting reports, bets that the next round of tariffs will be postponed and further trade war escalation avoided have fueled a risk asset rally in recent weeks.
Five stocks—three U.S. listed Chinese companies and two U.S. tech giants— stand to gain further if Washington rolls back the planned tariff hike. Each should be on your radar:
1. Alibaba
Perhaps no Chinese company is better known than Alibaba (NYSE:BABA). The largest e-commerce and retail provider in Asia has seen its American depositary shares (ADS) surge nearly 21% since Oct. 11, when U.S. President Donald Trump announced that Washington had reached a "very substantial phase-one deal" with China in their ongoing trade war.
The stock, which has soared 46% year-to-date (YTD) compared to the S&P 500's 25% gain, closed at $200.45 on Tuesday with a market cap of $533.1 billion after reaching a fresh 52-week high of $203.43 on Dec. 9.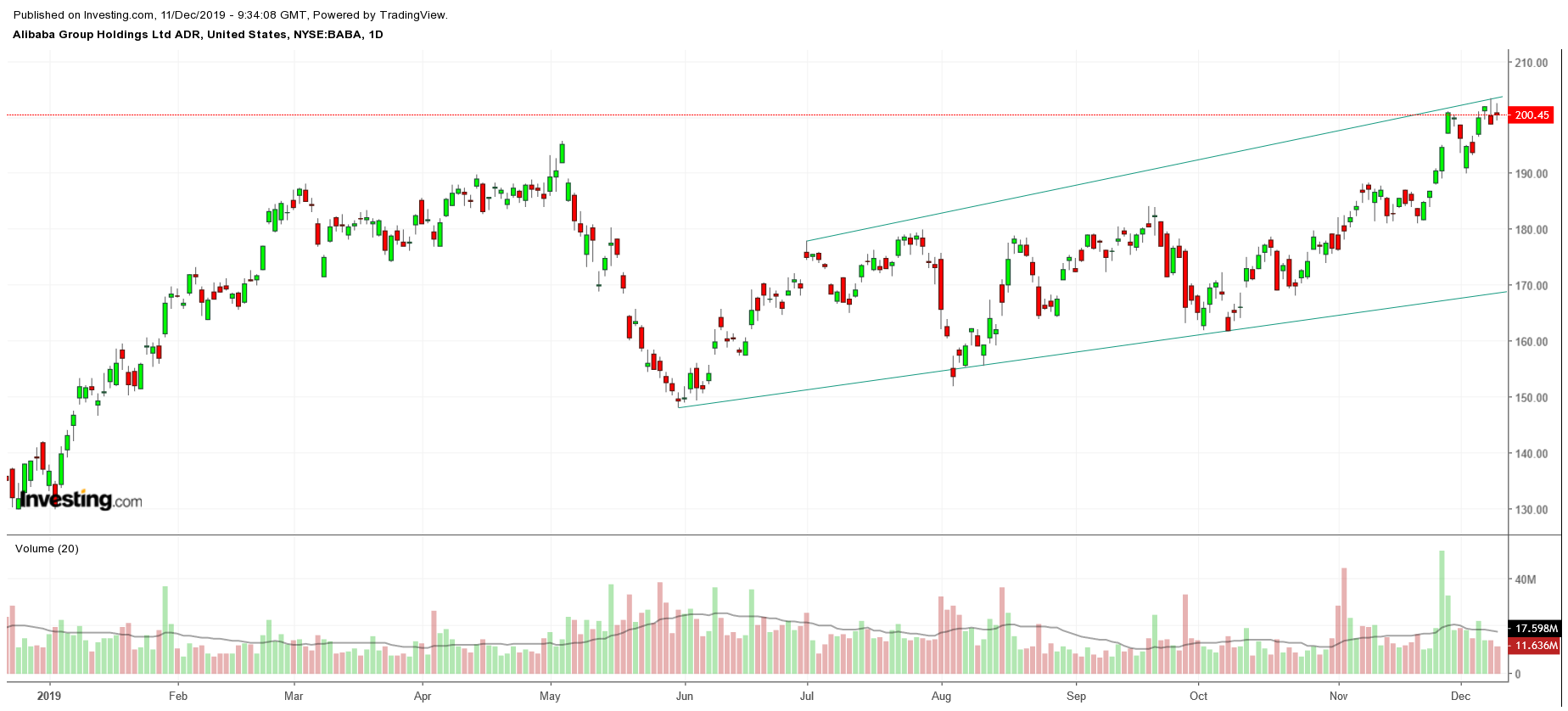 The strongest sign that investors remain bullish: robust demand for the new shares of Alibaba (HK:9988) listed in Hong Kong last month. The IPO raised $13 billion in one of the largest stock offerings of the year on Nov. 26, despite worries surrounding the ongoing U.S.-China trade uncertainty.
The multinational conglomerate has been focusing on measures to boost both global and domestic consumption, as well as making a push into big data powered by cloud computing. As such, we continue to expect significant upside from here and recommend accumulating shares since Alibaba is well positioned to benefit from a U.S.-China trade truce.
2. NetEase
NetEase (NASDAQ:NTES) is a Chinese internet technology company providing online services centered on content, community, communications and commerce. It also develops and operates online PC mobile games, advertising services, email services and e-commerce platforms in China.
Shares are up 19% since the phase-one agreement was announced on Oct. 11. YTD, the stock, which ended at $309.24 last night, has gained 31% in 2019 and closed with a valuation of $39.8 billion.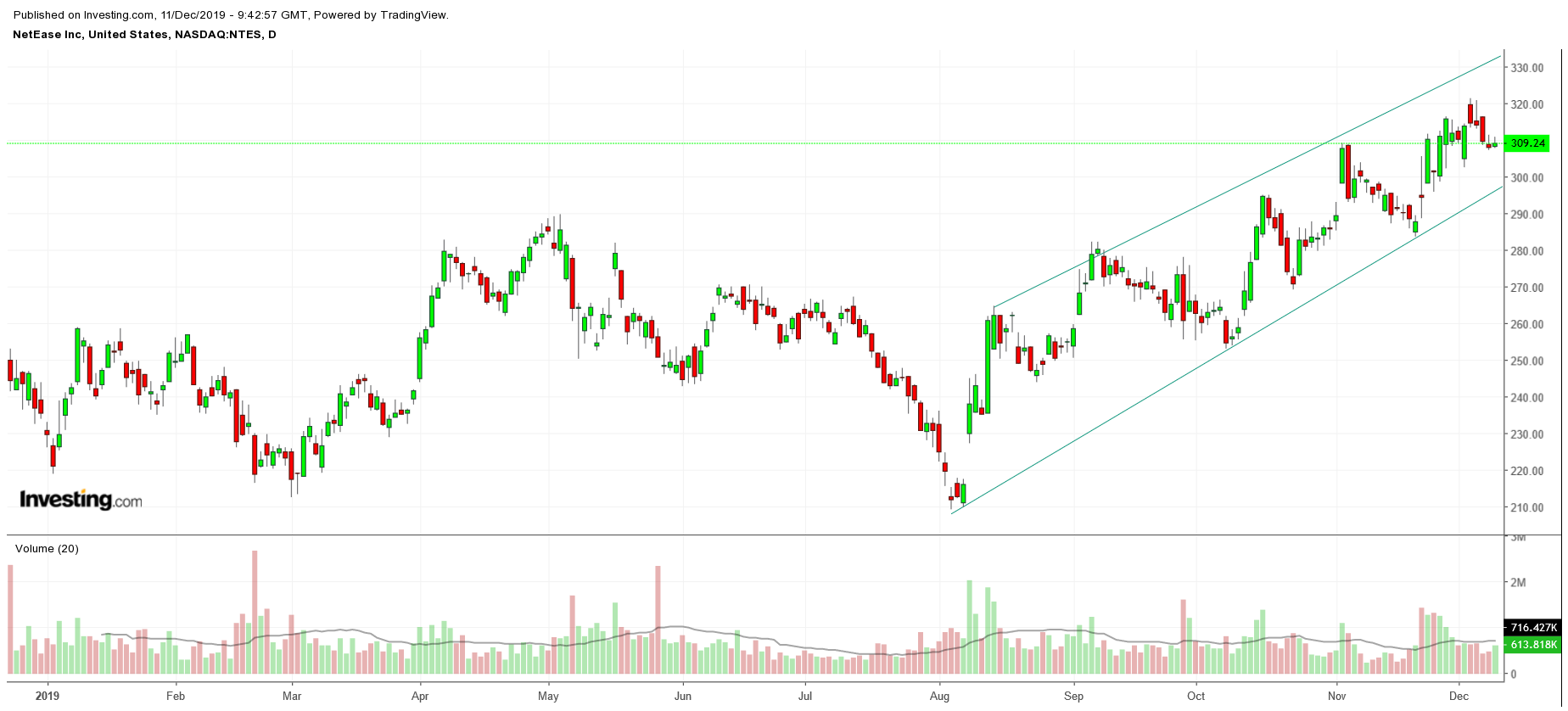 The company's most recent earnings report, which was released on Nov. 20, showed Y-o-Y revenue growth of 11% to $2.05 billion for the quarter. Adjusted earnings per share (EPS) came in well above expectations at $5.12, while non-GAAP income from continuing operations surged 74% Y-o-Y.
Analysts have upgraded the stock with Goldman Sachs giving NetEase a 'Buy' rating on Dec. 4, providing a $368 price target. Jefferies bumped its price target to $350 while reiterating its 'Buy' rating late last month.
3. TAL Education Group
TAL Education Group (NYSE:TAL), which was listed on the New York Stock Exchange in October 2010, is an established, after-school tutoring service provider for primary and secondary school students in China.
The stock settled at $45.27 yesterday, within sight of a 52-week high of $46.37 touched on Dec. 6. It has gained 21% since the Oct. 11 phase-one deal announcement. Shares are up an explosive 70% YTD, giving the group a valuation of $26.9 billion.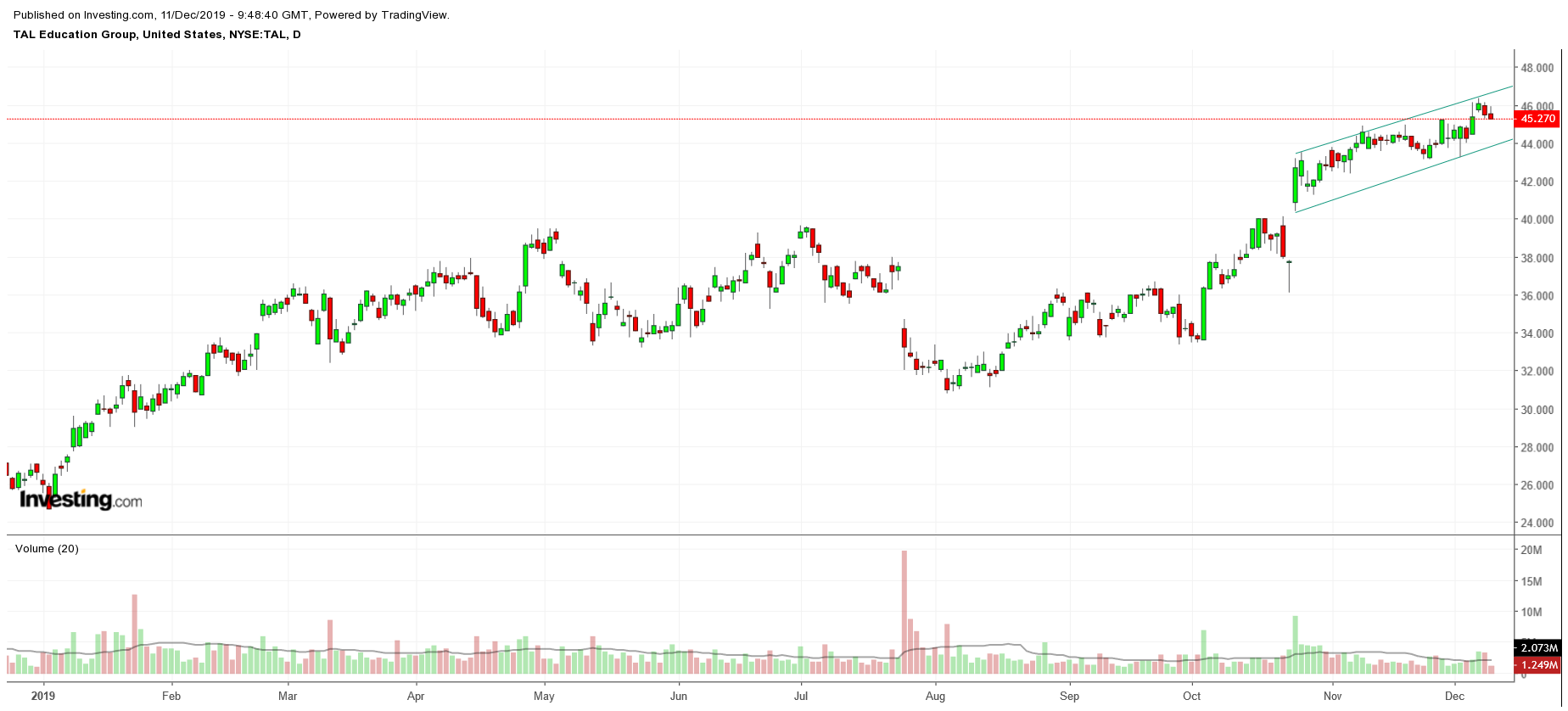 TAL's fiscal second-quarter earnings report showed that revenue grew by nearly 34% from the year-ago period as Chinese families flocked to the education supplier for help in improving their children's grades. Furthermore, the company forecast that revenue growth would continue to accelerate at around 30% in fiscal Q3.
In addition, rapid growth in its online business is another cause for encouragement. Revenue from its Xueersi.com platform—where TAL offers primary and middle school students live virtual lessons on mathematics, physics, chemistry, biology, English, Chinese and an array of other subjects—jumped 88% Y-o-Y, while long-term course enrollments surged by 134% to 1.4 million.
4. NVIDIA
NVIDIA (NASDAQ:NVDA), which designs graphics processing units (GPUs) for the gaming and professional markets, looks to be amongst the overperformers from a potential U.S. decision to postpone the next round of tariffs. NVIDIA is one of the tech companies with the largest percentage of their overall revenue coming from sales to China, at 56%.
Shares of the Santa Clara, California-based semiconductor giant are up 17% since the partial deal announcement on Oct. 11 and 60% for the year. The stock completed yesterday's session with a market cap of $131 billion and a share price of $213.98, not far from a 52-week high of $221.41 touched on Nov. 25.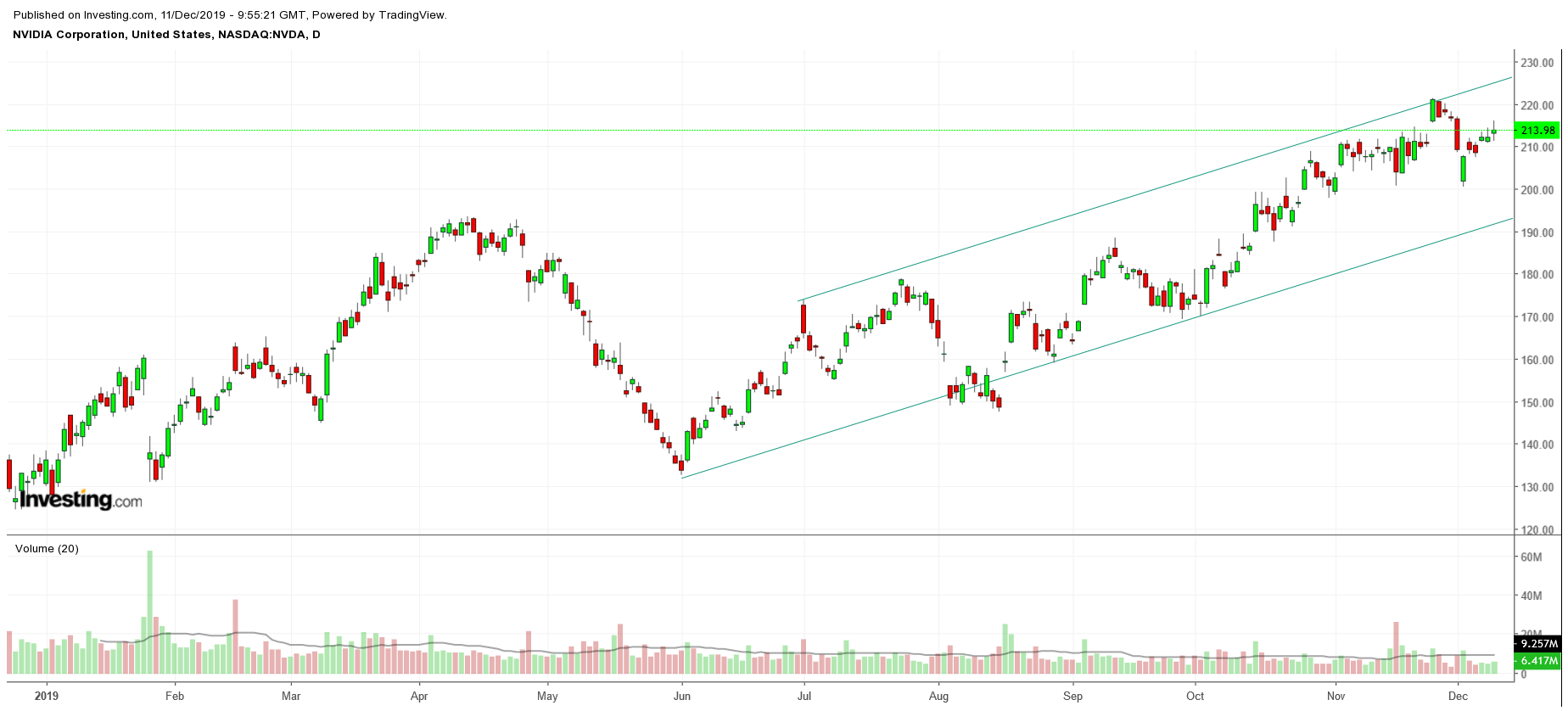 The tech corporation predicted strong demand for its chips used in data centers after reporting third-quarter earnings and revenue which beat market expectations on Nov. 14. The impressive quarterly performance displayed that NVIDIA is managing to assuage the impact of the ongoing U.S.-China trade conflict despite its significant reliance on the Chinese market for sales.
Following the robust Q3 earnings report, analysts have been getting bullish on NVIDIA stock, with Morgan Stanley upgrading its rating to 'overweight' on Nov. 25 and lifting the price target to $259, while Bank of America and Raymond James raised their respective ratings and price targets.
5. Apple
With a market capitalization of $1.19 trillion, Apple (NASDAQ:AAPL) is the largest company in the world. The iPhone maker is poised to benefit from a U.S.-China trade truce, as it generates 20% of its total sales from the Asian nation.
Shares, which touched an all-time high of $271.00 on Dec. 6, are up 17% since the Oct. 11 announcement of a first phase trade agreement. The stock, which has climbed a staggering 70% this year, ended at $268.48 on Tuesday. Apple also beat EPS and revenue expectations for each quarter this year.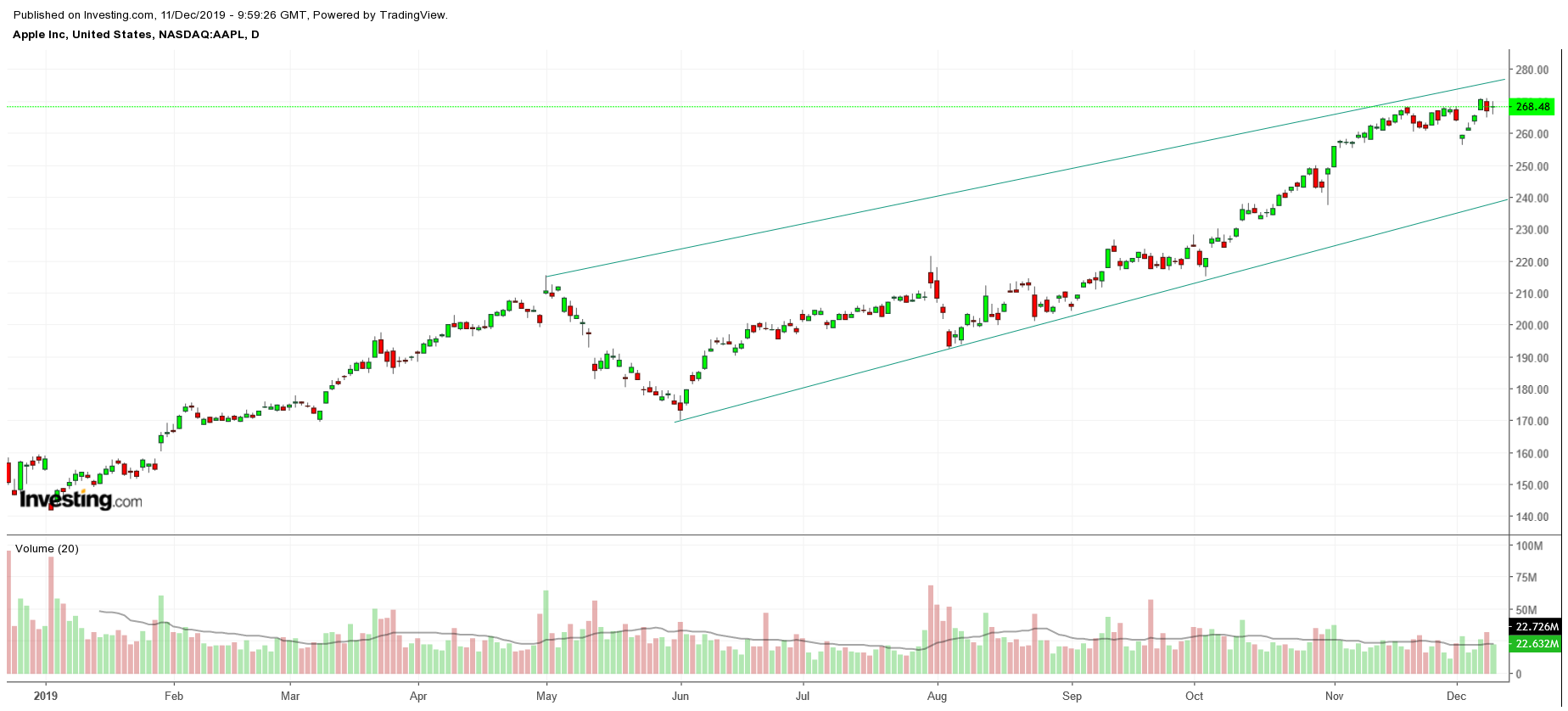 The Cupertino, California-based company shipped 10 million iPhone 11 models to China during September and October, up 6% from a year earlier, according to the China Academy of Information and Communications Technology, a strong sign that Chinese consumers are rediscovering their appetite for iPhones.
The Chinese market is second only to the U.S. in its importance to Apple's bottom line, so gaining smoother access to the Asian nation's growing economy would be an enormous boost to Apple.
Expectations are that subscription services, such as via iTunes Music, Apple TV+ and Apple Arcade, and wearables led by AirPods, will continue to drive growth in the years to come.

Written By: Investing.com