Even as the ongoing spike in the coronavirus pandemic weighs on market sentiment, investors are expecting to get some clarity on COVID-19's economic impact from an array of the US's largest companies as Q2 earnings season gets into full swing this coming week.
Several mega cap US technology and consumer companies are scheduled to release their latest earnings at a time when the spreading contagion has created doubts about a quick economic rebound.
The S&P 500 registered its third consecutive weekly gain for the first time since December, last week, providing confidence for investors that US-based businesses will ultimately recover from the global health crisis.
In a week packed with a variety of major announcements, we're focusing on the following three mega stocks:
1. Tesla 
Tesla (NASDAQ:TSLA) reports Q2 earnings on Wednesday, July 22, after the market close. Analyst consensus is that the electric carmaker will report a loss of $0.14 per share on sales of $5.1 billion.
A strong earnings report is what Tesla bulls are waiting for after a powerful rally this year sent the company's shares soaring. The stock gained more than 259% over the past 12 months.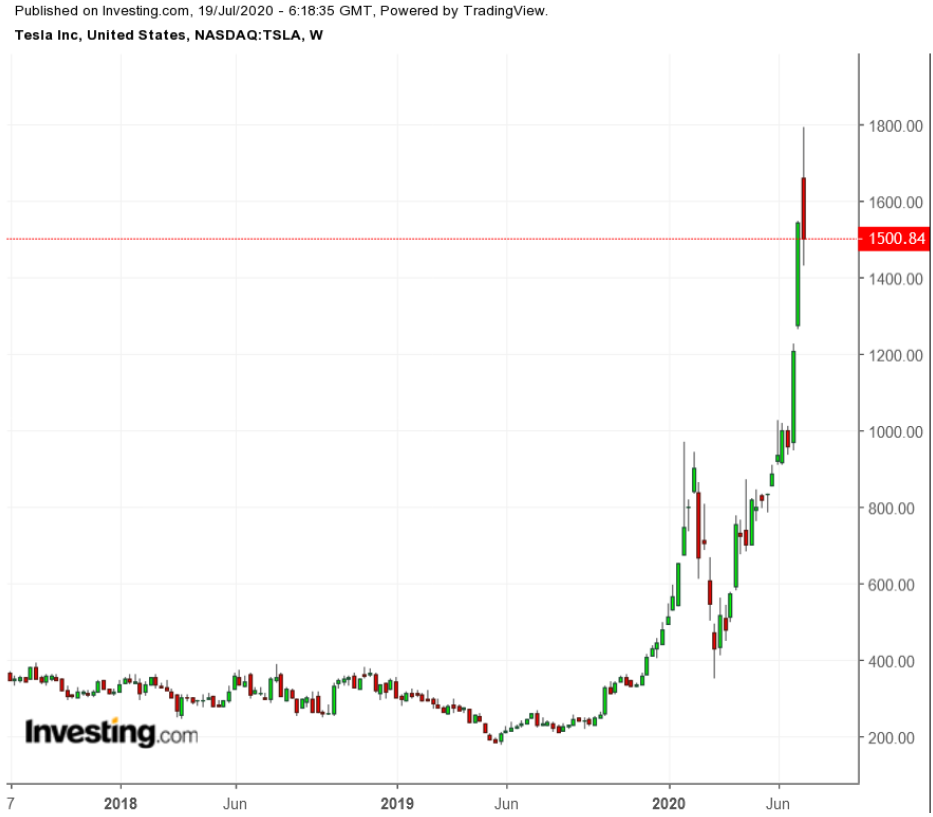 Shares closed on Friday at $1,500.84, surging five-fold from their March lows.
Investors have become more confident about the Palo Alto, California-based Tesla this year, after the carmaker beat earnings expectations three quarters in a row, raising hopes the company will soon become eligible for inclusion in the S&P 500, the world's most tracked index.
Tesla's recent surge gives it a market value of more than $278 billion, which is greater than that of Ford (NYSE:F), General Motors (NYSE:NYSE:GM) and Fiat Chrysler (NYSE:FCAU) combined.
2. Microsoft
One of Wall Street's tech darlings, Microsoft (NASDAQ:MSFT), reports fiscal Q4 2020 earnings on Wednesday as well, after the market close. The computer software and services giant is likely to post $1.38 a share profit on sales of $36.4 billion.
If the past provides any clues, the tech behemoth should show robust growth momentum fueled by an upswing in technology investments and the strength of its core Office products. Because of this strength, shares of Microsoft have performed well in the current health crisis, gaining almost 30% this year.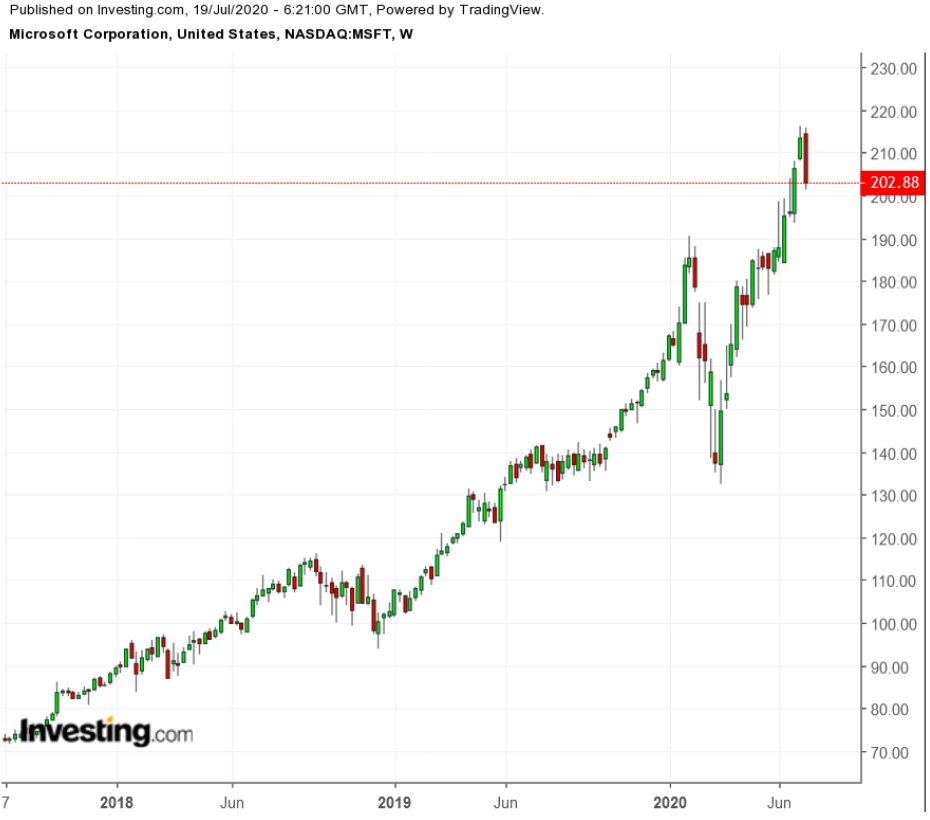 The stock closed on Friday at $202.88.
Among other things, Microsoft is benefiting from the increased demand for connectivity as people work and interact socially from home. In addition, investors expect businesses and governments will continue to spend on their transition to cloud computing—which has been the company's key growth area in recent years.
"Our durable business model, diversified portfolio, and differentiated technology stack position us well for what's ahead," CEO Satya Nadella said in the last earnings release in April.
3. Intel 
Chipmaker Intel (NASDAQ:INTC) will also come under investor scrutiny when it reports its latest quarterly earnings on Thursday, July 23, after the close. The computing, networking and data storage giant is expected to report $1.11 a share profit on revenue of $18.5 billion, according to analyst consensus.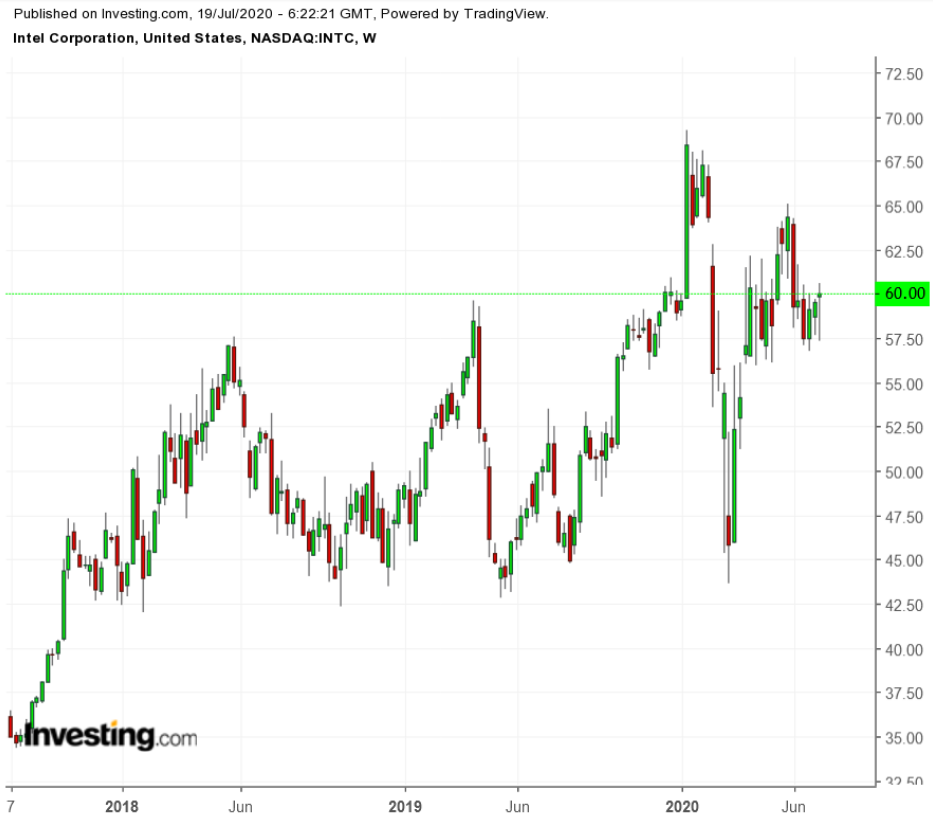 Intel, the largest chip maker in the US by revenue, had been benefiting from strong demand for chips used in data centers before the coronavirus pandemic hit. In April, the Santa Clara, California-based company withdrew its full-year sales forecast, citing "significant economic uncertainty" caused by the COVID-19 pandemic.
Still, the company was able to report a 23% jump in first quarter revenue and better-than-projected profit, helped by demand for chips that run laptops and servers.
Intel shares, which closed at $60 on Friday, are mostly unchanged for the year after recovering from the March dip. Investors will likely set the stock's future course after seeing this week's earnings report.

Written By: Investing.com