Given the current market volatility which is expected to continue for much of this year, exchange-traded funds (ETFs) offer new as well as seasoned investors a variety of advantages over shares of individual companies.
Why ETFs?
An ETF is a basket of securities that can be easily bought or sold on a stock exchange during market hours, just like any other stock. ETFs typically offer diversification over asset classes, industries or global regions—all of which come with unique advantages and disadvantages.
One benefit of investing in ETFs: they spread capital among a wider range of companies. Therefore, the possible underperformance of one company, say during earnings seasons, does not necessarily result in extreme losses for the ETF as a whole.
As a result, ETFs make it easier to weather short-term choppiness in the markets, enabling long-term investors to pursue a more passive buy-and-hold strategy. 
However, in the case of global ETFs, it's valuable to remember that the fundamentals of a given region or country, as well as currency fluctuations, will also likely affect the fund's returns.
With all that in mind, here are two exchange-traded funds with long-term growth potential for new investors even during this period of heightened volatility:
1. Schwab US Large-Cap Growth ETF
Current Price: $110.79
52-Week Range: $67.25 - 110.92
Dividend Yield: 0.66%
Dividend Distribution Frequency: Quarterly
Expense Ratio: 0.04% per year, or $4 on a $10,000 investment
Schwab U.S. Large-Cap Growth ETF™ (NYSE:SCHG), which has 350 holdings, follows the Dow Jones U.S. Large-Cap Growth Total Stock Market index. Growth companies are typically defined as those whose earnings or revenues increase at higher-than-average rates. Many such companies do not pay a dividend or provide only a small payout. They also usually trade at relatively high price-to-earnings valuations.
The five most important sectors by weighting for SCHG make up around 86% of the fund. They include Information Technology (38.31%), Consumer Discretionary (15.38%), Communication Systems (13.75%), Healthcare (12.84%) and Financials (5.85%). 
The top ten holdings make up 42% of total net assets, which are currently close to $12 billion. SCHG's top three companies are Apple (NASDAQ:AAPL), Microsoft (NASDAQ:MSFT) and Amazon (NASDAQ:AMZN).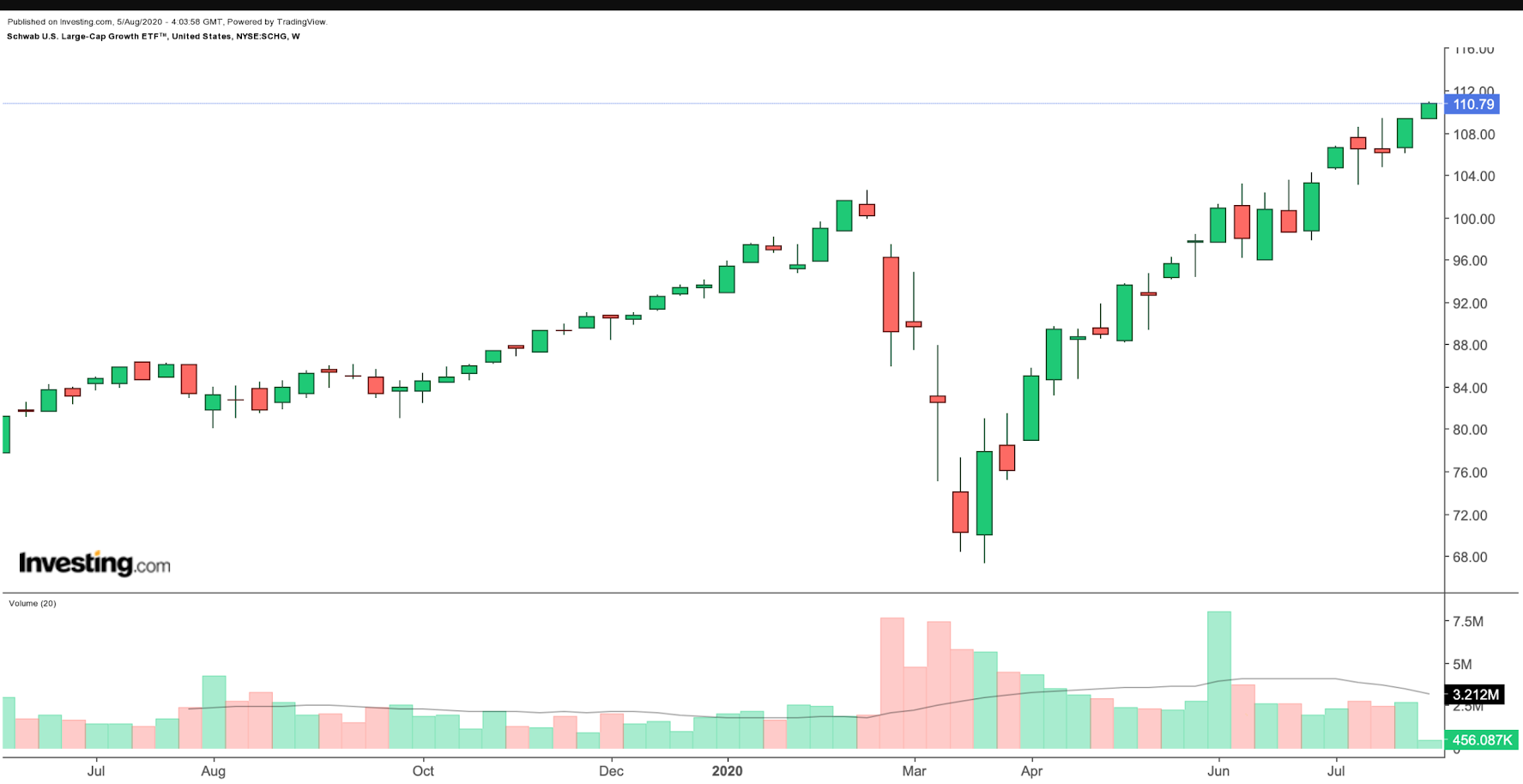 As the ETF name implies, the main reason to invest in growth stocks is for the growth potential of the underlying businesses. Year-to-date, the fund is up close to 20%. It hit an all-time high on Aug. 3, 2020. Plus, since hitting a 52-week low in late March, SCHG is up about 65%.
2. SPDR Portfolio S&P 500 Value ETF
Current Price: $30.34
52-Week Range: $21.77 - 35.45
Fund Dividend Yield: 2.77%
Dividend Distribution Frequency: Quarterly
Expense Ratio: 0.04 % per year, or $4 on a $10,000 investment
SPDR® Portfolio S&P 500 Value ETF (NYSE:SPYV), which has 390 holdings, follows the S&P 500 Value index.
This benchmark index measures the performance of the large-capitalization value segment in the US equity market. It consists of those stocks in the S&P 500 index exhibiting the strongest value characteristics based on: (i) book value to price ratio; (ii) earnings to price ratio; and (iii) sales to price ratio.
The five most important sectors by weighting are Healthcare (20.89%), Financials (18.36%), Consumers Staples (10.91%), Information Technology (8.35%) and Communication Services (7.96%). These sectors comprise almost 67% of the fund.
With the total net assets valued at around $5 billion, the top ten holdings make up 21.3% of SPYV. The fund's top three companies include Berkshire Hathaway B (NYSE:BRKb), UnitedHealth Group (NYSE:UNH) and Verizon Communications (NYSE:VZ).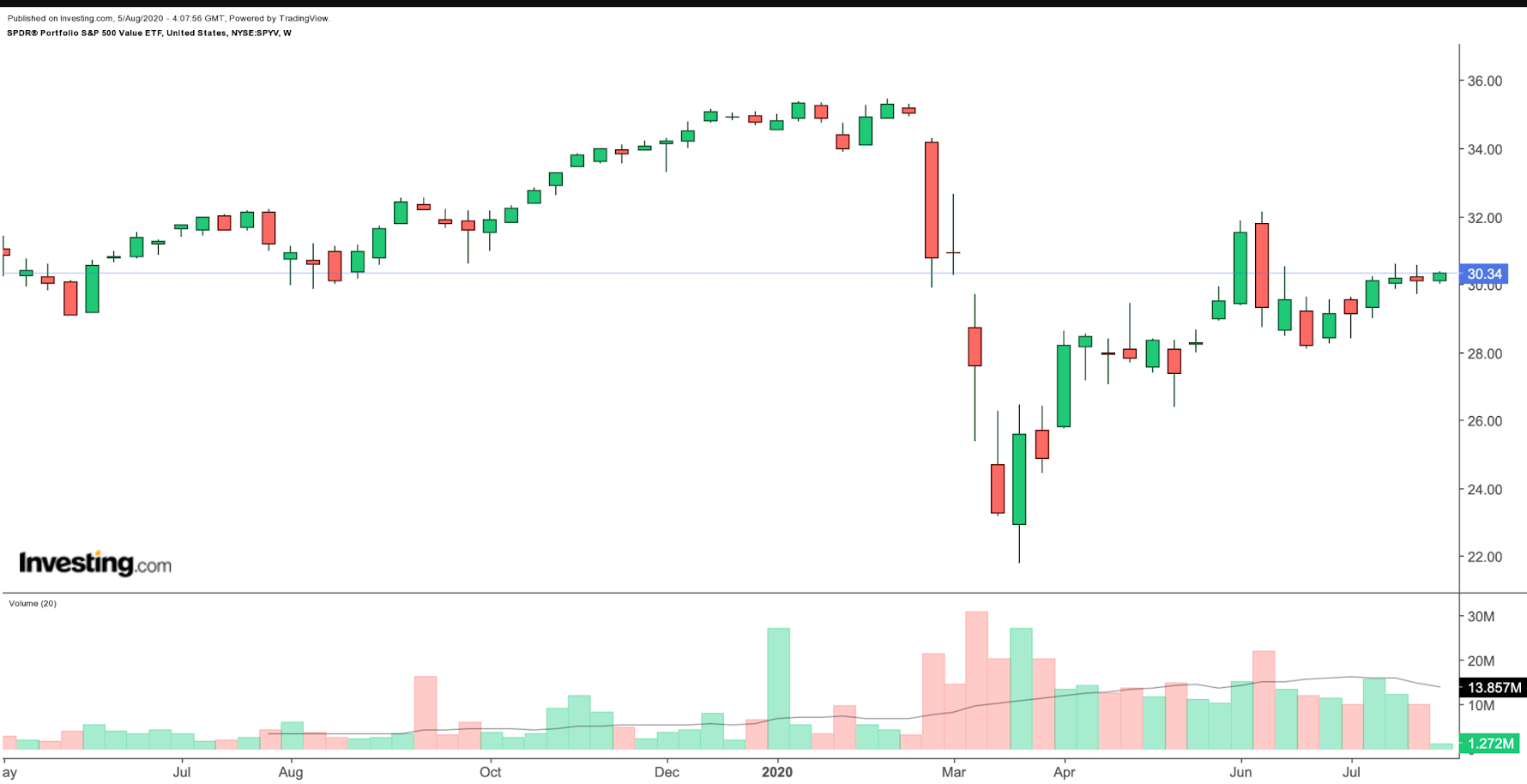 YTD, the fund is down over 13%. However, since the 52-week low seen in March, SPVY is up close to 40%.
Bottom Line
A wide range of ETFs provides low-cost access to various asset classes, industry sectors and international markets.
As the difference between the YTD returns of SCHG and SPYV shows, so far in 2020, value stocks have not been as strong as growth shares. Therefore, it may be beneficial to talk to a financial advisor about the suitability of these funds in individual portfolios.

Written By: Investing.com